It's Friday, so we need no excuse to bring you the slightly strange tale of how this hack unexpectedly bumped into Cockfighter in a Spanish petrol station.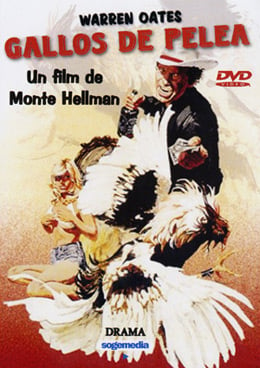 Years back, I wrote a piece about Monte Hellman's 1974 cockfighting flick, which had to be pulled from the Edinburgh Film Festival because, as the title suggests, it contains quite a lot of cockfighting.
Since cockfighting is illegal in Blighty, UK audiences never got to enjoy explicit scenes of fighting cocks going at it hammer and tongs. Sue Clark, of the British Board of Film Classification, explained: "The film was never edited for classification in the UK because it's called Cockfighter. And if you take out all the cockfighting scenes there's not much left."
I concluded: "It's seemingly not available to buy at the various UK online DVD outlets we tried, so those of you interested in seeing just how good Warren Oates' performance is will have to look abroad."
Fast forward six years, and me and Special Projects Bureau volunteer José María Pita were on a reccy in the nearby town of Béjar, ahead of our first LOHAN hypobaric chamber test, when we stopped off at a petrol station for a quick coffee.
Flicking through the cheap DVD rack, I was amazed and delighted to come across a copy of Cockfighter - or rather Gallos de Pelea, as it's known over here - at the bargain price of €2.
I'd never actually seen the film, so it was straight back home for some hardcore cockfighting.
The verdict? It's actually a bloody good movie. I'm a fan of Warren Oates, in particular his performances in the excellent Two-Lane Blacktop (also directed by Monte Hellman) and Sam Peckinpah's Bring Me the Head of Alfredo Garcia, and he doesn't disappoint here.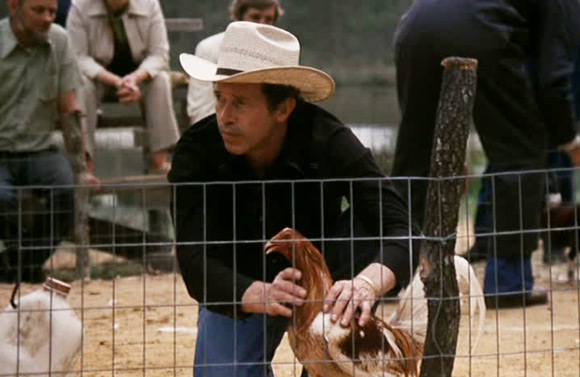 I can recommend the film to any reader who shares my penchant for 1970s American filmmaking, although I'd advise those who don't much like cockfighting to avoid it, because it really does do what it says on the tin.
Regarding the improbability of finding a copy of Cockfighter in a provincial Spanish petrol station, José María Pita said: "Well, it may be that the chances of anyone wanting a copy of this film ever coming in here are a million-to-one, but you just bought it."
True enough. As I walked out into the sunlit forecourt, I could almost see a dishevelled Warren Oates sitting in a dusty convertible, pondering the existential meaning of the unlikely encounter. ®
Bootnote
I went to a cockfight once - a proper affair with a pit and tiered wooden benches and loads of shouting Panamanians frantically waving dollars. Suffice it to say, me and a mate lost 10 bucks on an alleged dead cert which entered the ring, and promptly dropped dead after a 10-second pasting. As my mate put it: "Oh, for fu*k's sake."