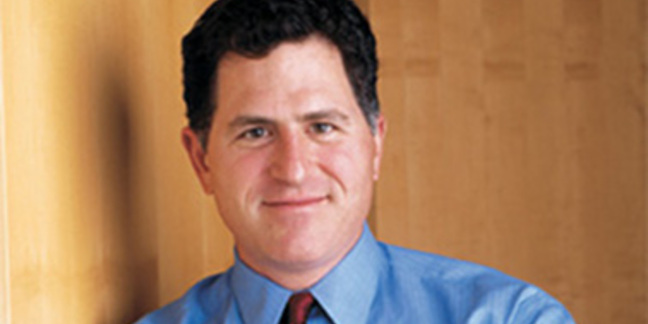 Dell might be chasing large enterprises like mad these days, but it has not forgotten the small and medium business customers that made the company a player in IT. SMBs need data warehouses as much as the big boys, but they have less money and less skills with which to slap one together. That's where, Dell hopes, its QuickStart Data Warehouse Appliance 1000 comes in.
The system maker hinted back in February, when it pre-announced the PowerEdge 12G server lineup, that it was working on such an appliance – a mashup of Dell's Boomi integration service and a PowerEdgie running Windows Server and the SQL Server database, all preconfigured and ready to suck data out of your systems.
Specifically, the appliance is based on a PowerEdge 720R rack-based server with only one 3.3GHz, four-core Xeon E5-2643 processor installed in one of its two sockets. The machine is equipped with four 16GB DDR3 memory sticks running at 1.33GHz, and has a total of 24 2.5-inch disk drives in the front and two in the rear.
There are eighteen 300GB disks spinning at 10K RPM that are used for data stored in SQL Server 2012, plus four of the same drives to store the data logs.
There are two drives in the rear of the chassis – 600GB 10K RPM units – that are used to hold Windows in a RAID 1 mirror, and the two remaining drives in the front of the chassis are 600GB hot spares to back up the OS disks or the data disks, whichever one fails first.
The data warehouse appliance is configured with Windows Server 2008 Enterprise Edition at the R2 SP1 level, which is the latest-greatest release until Windows Server 2012 ships in September. The server is configured with SQL Server 2012 Data Warehouse Appliance Edition. This is not one of the normal editions of the database, which currently includes Enterprise, Business Intelligence, Standard, and Express Editions – this variant is based on the Enterprise Edition of SQL Server 2012. But it looks like it is based on a scaled-down version of Enterprise Edition in that it has the xVelocity ColumnStore indexing capability and Remote BLOB (Binary Large Object) support added in.
The software stack has been tuned and put through Fast Track reference architecture integration testing so partners can peddle it and know that all the parts work together. The first edition of the data warehouse appliance scales to 5TB of usable data, which is plenty big enough for lots of SMBs.
That gives you the baby data warehouse, but you need the Boomi integration service from Dell to extract data from various production applications so that there is something to do ad hoc queries on. The QuickStart Data Warehouse Appliance 1000 includes a one-year license to the Boomi service with five standard connectors to data sources and five test connections.
Dell also provides tech support for the whole shebang and tosses in a set of services called Foundation Pack, which includes 32 hours of setup, hands-on training in data-warehouse concepts, and a post-installation check by a data-warehouse architect. Dell also tosses in quarterly health checks on the appliance and on the data designs and schemes customers create for their data warehouses to suggest improvements. (Yeah, "Buy more iron.")
The QuickStart Data Warehouse Appliance 1000 is available now and has a list price of $69,990. It is not clear what the Boomi and other Dell services cost, but a typical Boomi customer gets addicted to data integration and spends on the order of $20,000 a year for the service.
Which Michael Dell just loves. ®
Sponsored: Webcast: Ransomware has gone nuclear