Microsoft pops preview of 'biggest, most ambitious' Office yet
Redmond shifts Office from installed code to cloudy service
Microsoft has released the last preview of its latest build of Office – the first release of one of Redmond's biggest cash cows.
"This is the first round of Office designed from the get-go for Office to be a service," said CEO Steve Ballmer at a press conference in San Francisco. "We've transformed Office to embrace design concepts shown in Windows 8 and Phone 8 and in Metro. This wave of Office is the biggest and most ambitious we've ever done."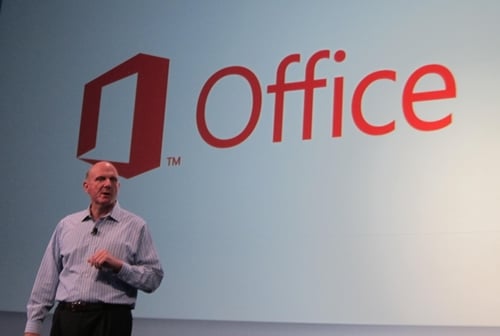 Ballmer bouyant over cloudy Office
The application suite has been rewritten from the ground up, he said, and while Redmond will still support those who want to install their own copy, Microsoft hopes that the bulk of users will use its code in a cloudy fashion. Developers can also build third-party web applications and embed them in Office.
By default, Office applications will store preferences, custom dictionaries, and – most importantly – documents, in the cloud via SkyDrive. This all fits in the "Metro everywhere" philosophy that Microsodt is pushing, but some companies will have to look at whether this cloudy control is really what they want.
This is also a very touchy-feely build, with pinch controls in all the Office applications. There are the usual expansion/contraction pinch controls, plus swiping between functions within Office and doing things such as selecting fonts and type styles using rotary controls. A stylus can be integrated as well, either to annotate documents or act as a pointer during presentations.
Users who hate the ribbon that Microsoft has introduced – which seems to be a lot of you – have mixed news. The ribbon is still there, but it's hidden until the user touches or clicks on the menu system.
Microsoft has also integrated a lot more functions into Office, allowing Bing and other services to add in content. You can, for example, highlight an address to bring up a Bing Map, or publish on multiple platforms such as Facebook and then amend or remove content with other Metro devices, with the software remembering your last actions and offering a quick window back to the work in progress.
SharePoint gets a social networking revamp
On the social side, Microsoft has changed SharePoint to be more social-friendly. The new interface looks very like a social network site, and it will provide a news feed with threaded discussions, video, and shared applications, and suggest documents you might be interested in. Registered users get a "people car" that contains notes about them, an aggregation of all their social feeds, and ways to contact them via phone.
Skype is also being integrated, nearly two years after Microsoft bought the service. Skype is integrated directly with Office and the Phone 8 operating system so there's little difference between VoIP and traditional telephony modes. Yammer integration is also in the cards.
In terms of changes to the software, Microsoft says this build is the smartest yet. In Excel, for example, the computer will suggest the best kind of charts and tables, and suggest automatic filling of cells based on past content.
Redmond also demoed a large-screen version of the new Office build on an 82-inch screen which comes from Microsoft's recent Perceptive Pixel purchase. Redmond is pitching these as the perfect meeting tool, and one that can allow a style of collaborative working and on-screen videoconferencing that Ballmer said he hopes will stop people concentrating on pencil and paper.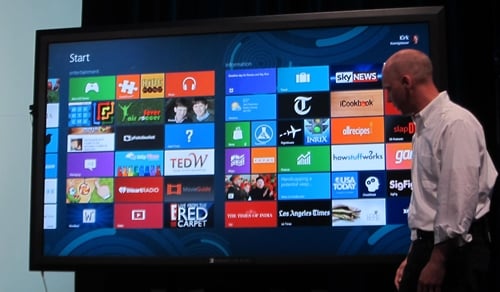 Microsoft suggests meetings can go digital with its hardware and software
Ballmer also said that ARM users would not be second-class citizens in the Office world. Office for ARM will be a fully functional version of the applications suite, with nothing left off – although there was a caveat that it would require "the most advanced hardware."
The preview is for Office 365, while business customers get their own build to try. Installed software will also be sold, but Ballmer said he expects most people will use Office as a service rather than an installed base. No date was given for the final launch of Office 2013. ®