This article is more than 1 year old
Behold: First look at Office 2013, with screenshots
So you say you want Metro everywhere, all the time?
Microsoft announced the details of Office 2013 at noon on Monday, San Francisco time, so your humble Reg hacks have only had it their sweaty paws for a few hours, but it's not too soon to give some first impressions of the suite, and in particular its revamped UI.
The first thing you notice when launching any of the Office 2013 applications as that they've definitely been given a makeover to match Windows 8's new Metro UI.
Most of the translucent effects and gradients that were present in Office 2010's Ribbon menus have been removed. In their place are simple, flat fields in white and solid colors.
The enhanced File menu, which was called the "Backstage View" in Office 2010, now looks like a full-fledged Metro app. It takes over the entire screen with a minimalistic, touch-friendly UI.
When launched, each application presents a gallery of possible document styles with large, friendly previews, as if you could just choose one and your document would already be made for you.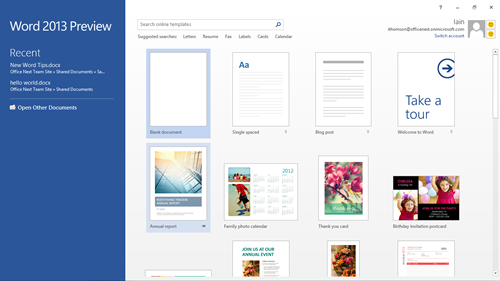 Flat colors, straight lines, and bland fonts are the hallmarks of Office 2013. (Click to enlarge)
The UI changes become even more apparent within the applications themselves. Everything is clean lines and solid colors to an almost obsessive degree.
Windows developers got a first look at Redmond's new style with the preview release Visual Studio 12 (nee Visual Studio 11), and they were vocal in their disdain for it. Unfortunately, not much has changed.
Particularly egregious is the use of ALL CAPS for the top-level menus, but the overall look and feel of the applications' controls and menus is dull and lifeless.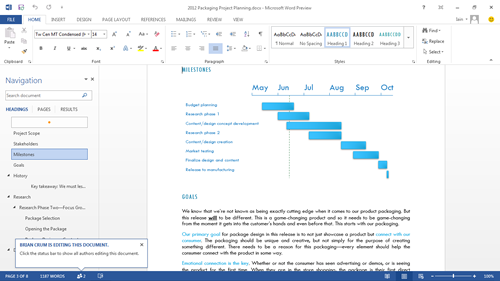 The brand-new Office 2013 UI. Are you getting sleepy? (Click to enlarge)
Several of the applications offer a "touch mode" button above the menu bar, which reconfigures the UI so that icons are farther apart and controls are larger, making them easier to activate with touch screens.
The overall UI doesn't really change all that much in touch mode for traditional desktop PCs, but it's useful when a traditional keyboard and mouse aren't available. Applications that rely heavily on keyboard input, including Word and Excel, lack the touch mode.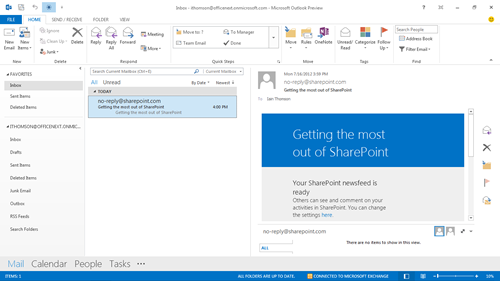 Office 2013 in "touch mode" offers big icons and wide spaces for fat thumbs. (Click to enlarge)
In keeping with Microsoft's Office 365 push, the Office 2013 applications are more tightly integrated with Redmond's online services than ever before. Selecting Open from the File menu presents the user with a myriad of file sources, including not just the local drive but also SharePoint servers and Microsoft's SkyDrive cloud storage. Connecting to any of these sources is much more seamless than it was in Office 2010.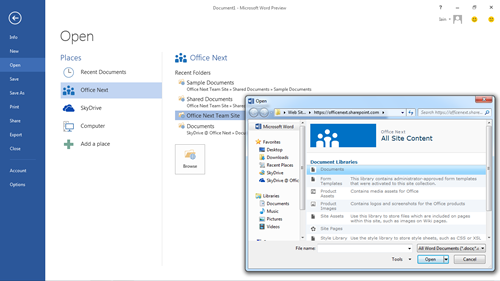 Office 2013 offers tight integration with SharePoint, SkyDrive, and other online sources. (Click to enlarge)