Surprise! BT pockets £70m North Yorkshire broadband rollout
To win one-horse race in Cumbria also
---
Updated BT has been awarded a £70m contract from North Yorkshire county council to improve broadband service in the area, and will win a similar contract for Cumbria by default.
Japanese tech giant Fujitsu, the only competition faced by BT for the work, withdrew from the contest in Cumbria but remained in the running for the North Yorkshire deal.
It was clear at that point that the national telco would, by default, secure the Cumbrian BDUK funds from the Department for Culture, Media and Sport. Having won the competition in Yorkshire, BT will secure that cash as well.
BT - which has apparently spent £23m on the North Yorkshire county already - will plonk £10m on the project, which gets a £17.8m cash injection from the government and a further £8.6m from the European Regional Development Fund.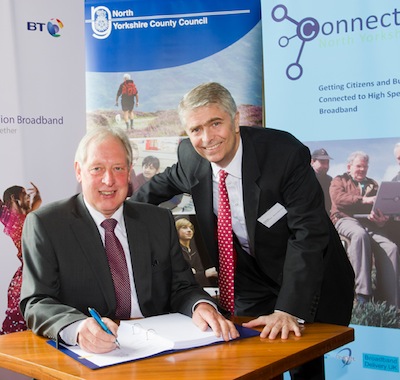 Just the two of us, we can make it in the end...
Here's a canned statement from broadband minister Ed Vaizey, who apparently had no concerns about the rather weak competition for the BDUK funds - despite the European Commission's concerns about the allocation of state aid in Blighty:
I'm delighted that North Yorkshire has unlocked further funding and is ready to start rolling out fibre broadband. It's an ambitious project which will bring huge benefits to homes and businesses across the county.
Around 365,000 homes and businesses in North Yorkshire are expected to gain access to broadband speeds of up to 80Mbps by the end of 2014, with an unspecified number of areas in the country getting extremely fast downstream connections of up to 330Mbit/s via BT's fibre-to-the-premises technology. ®
Updated to Add
An earlier version of this article incorrectly stated that Fujitsu had withdrawn from the North Yorkshire BDUK competition as well as the Cumbrian one.