This article is more than 1 year old
Devolo dLAN 500Mb/s powerline network adaptor review
Fast Ethernet through a three-pin plug
Devolo's dLan 500 AVmini adaptors score highly for me for two reasons: they operate at powerline's highest speed grade, 500Mb/s, and they're compact.
Powerline adaptors used to be fairly small, but that was back in the 14Mb/s days of HomePlug 1.0, one of two original competing powerline standards of the early 2000s. Upping the peak speed first to 85Mb/s and then to 200Mb/s fattened up the adaptors as well as the data pipe they maintained.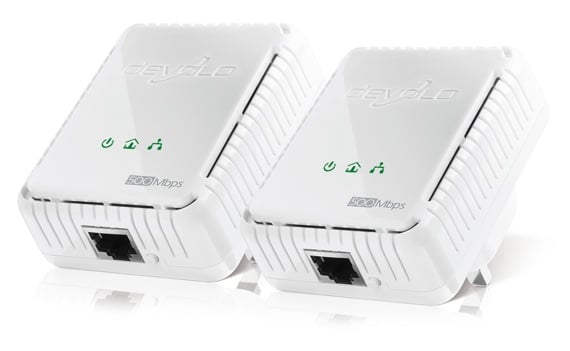 AVmini: the smallest - yet fastest - Devolo powerline adaptors
Miniaturisation has finally caught up, and Devolo's AVmini is smaller than the company's 85Mb/s units I found that I still had in a shoebox somewhere. The two units have the same height and width, but the new model isn't as thick.
There's a catch, of course: the block on which the three UK mains power pins are mounted means the AVmini still juts out from a wall socket by a fair margin, but then so do all UK-centric powerline adaptors.
That includes Devolo's other 500Mb/s adaptor, the considerably more bulky AVplus, but this one has been beefed up to give it a pass-through three-pin power socket. Its face stands only slightly further from from the wall as the AVmini does, but there's less of a gap behind.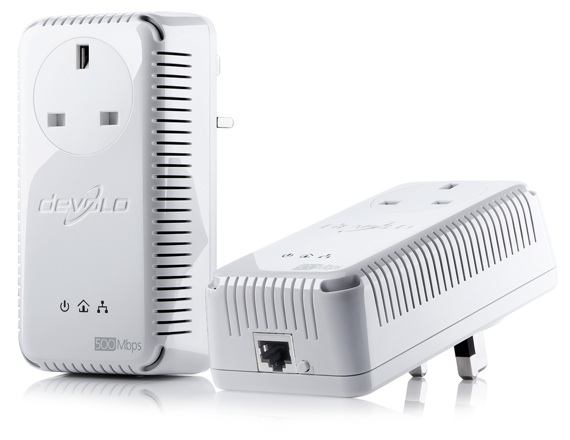 AVplus: bulky but with a very handy power passthrough
It also extends downward much further - the powerline internals are mounted below the pass-through rig - so the Ethernet port is potentially much less readily accessible. You might even find it inaccessible, if your power sockets are mounted very low on the wall. If the plate is too low down, the floor could stop the AVplus fitting into the socket at all.
Still, I can personally attest that the AVplus - and pass-through adaptors like it from other manufacturers - can be darn useful if your house or flat was wired up in an era before today's profusion of gadgets and, like me, you need plenty of socket gangs to keep everything plugged in at once.
Powerline vendors caution you not to plug their adaptors into gangs, but doing so has never caused me any bother. Still, it's good to known that a shortage of wall-mounted sockets need not impede you from setting up a powerline link.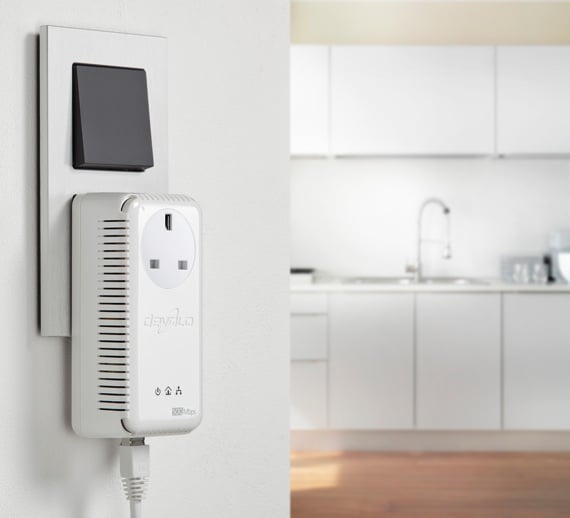 Fine here, but if your power socket's close to the floor, the AVplus may not fit
Powerline for me forms a solid bridge between my wireless router and a number of net-connectable devices, including my TV and Blu-ray player, and the nipper's games console.
I've been using both the AVmini and the AVplus for a while now as the two ends of a busy link that's hosted frequent movie streams and Xbox Live gaming sessions. The adaptors get warm, but have yet to get hot to the touch. They feel cooler than the 200Mb/s adaptors I've been using up until giving these ones a try.