This article is more than 1 year old
Pyrotechnic boffin poised to light LOHAN's fire
Reg reader expert brews up custom rocket motor igniter
Cometh the hour, cometh the man, as the old saying goes, and we're delighted to report that a Reg reader has stepped forward to resolve the thorny problem of just how to get our Low Orbit Helium Assisted Navigator (LOHAN) mighty thruster to fire at altitude.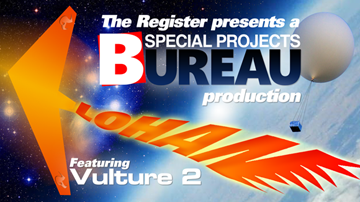 The first rocket motor tests in our shed-built Rocketry Experimental High Altitude Barosimulator (REHAB) rig ended in some rather forlorn fizzling, as both the AeroTech and Cesaroni igniters popped, but failed to ignite the main charges.
Subsequent head-scratching nailed the probable cause as the heat from the igniters not transferring to the powder at the test pressure of 20mbar.
The solution? A more potent igniter, guaranteed to give the motor the kick-start it needs.
Enter stage left Rob Eastwood, a pyrotechnics specialist with rocketry experience. Rob works as Head Firer for Flashpoint Fireworks, and has been following the progress of our REHAB efforts. He sent over this concept diagram for an igniter he reckons will do the trick:

Good stuff. Note the two independent E-Match connections, for the primary and failsafe trigger mechanism connections - something which gives us a little more incendiary peace of mind.
There's more on how the whole thing works after these construction snaps, taken by Rob in his "invisible shed". If you need clarification, roll over the pics for info: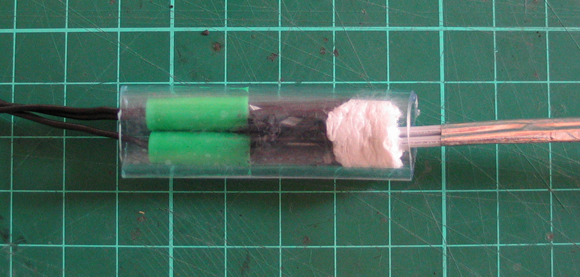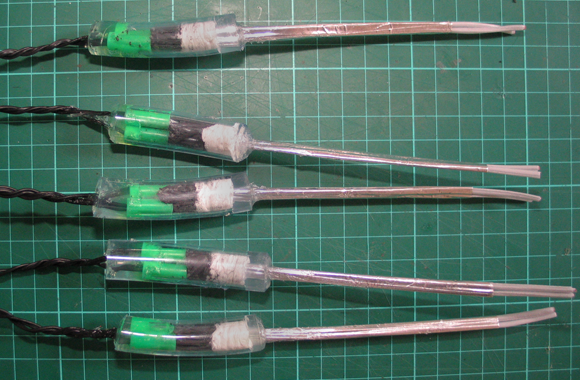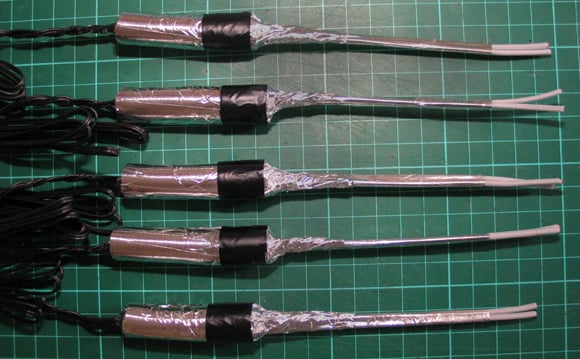 Rob explained:
When fired, the silicone plug is designed to pop out on the E-Match side, leaving the PVC tube intact with the PIC fuse burning out of the other end. I expect the rocket to fire 4-5 seconds after you hit either E-Match.

I have put some black tape around the tube where I suggest you attach it securely to a (non flammable!) framework, with a cable tie or wire twist etc. You should be able to put it on quite tight at this point if you need to.

You can cable tie/wire it elsewhere if you wish, but leave the E-Match end free to pop out, and don't squash the tube where the E-Matches are - they have been known to be friction sensitive and nobody wants to go off prematurely!

I would suggest that you wire the PIC fuse to a thicker piece of wire/framework/meccano etc, as far up to the rocket nozzle as you can get - to prevent too much movement. I don't know exactly how PIC will behave at low temps, but it might get brittle. The aluminium sheath should help hold it all together even if it does crack inside though.

You can bend the end of the fuses as you wish to fit the motor nozzle, but don't bend them too many times or the core inside the plastic coating will begin to break up.

Try not to bend the aluminium coated part of the fuse too tightly, eg, if you need a right angle, make a smooth bend in it over an inch or two rather than a sharp 90° kink.

The E-Matches should fire on less than an amp, but I suggest your electronics are designed to kick out 1A or more for 500ms. If you want to test for continuity before firing, don't put more than 10mA down it just to be safe. I will post some plain ematches of the same type used for you to test with.

A 9v PP3 battery always does the trick over a short cable run, but you may need something better if it is to work at -70° or whatever!
So, as Rob says, we need to attach the igniter to the rocket motor casing to hold thing in place and ensuring the PIC stays in contact with the motor charge, while allowing the E-Matches to pop out.
That shouldn't be too much of a problem, and our 12V igniter box - with its eight AA batteries - will provide the necessary electrical poke to get the ball rolling.
There's a certain amount of delicious expectation down here at the SPB as to just how this will pan out in the REHAB chamber, but we imagine fire, and plenty of it.
Whatever happens, we've got the experts on the case. Flashpoint Fireworks' head honcho Jason Mayes has agreed to supply all LOHAN's future igniter needs, so it's a round of applause and rounds of beer for him and Rob as our audacious spaceplane mission comes one step closer to lift-off. ®
Bootnote
We'd also like to offer a tip of the hat to reader Nick Woodruffe, who emailed to offer some alternative igniters just as we were putting this story to bed. We'll keep you posted on his contribution to the cause...
Further LOHAN resources: