McDonalds staff 'rough up' prof with home-made techno-spectacles
Computer Vision pioneer suffers Mac Attack
Updated A man wearing computer-assisted spectacles was assaulted by staff in a Parisian McDonalds, who tried to pull the glasses off his head then threw him out of the restaurant, according to a blog post written by the victim.
The staff seemed angered by the high-tech vision-ware worn by Dr Steve Mann who is an academic at the University of Toronto and an expert in wearable computing. Mann has worn the computer-assisted spectacles, known as the EyeTap Digital Eye Glass, pictured below, for 13 years.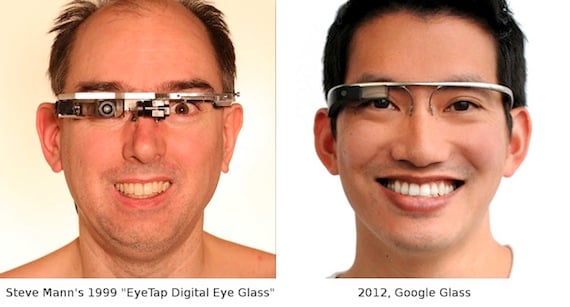 Steve Mann's computer-aided glasses are comparable to the Glasses project Google are working on, credit - Steve Mann, from website
On the 1st July Dr Mann entered the McDonalds off the Champs-Elysee while on holiday. After buying food and taking a seat with his family, he was approached by a man with a McDonald's name tag who assaulted him and tried to take the spectacles off his head:
Subsequently another person within McDonalds physically assaulted me, while I was in McDonald's, eating my McDonand's Ranch Wrap that I had just purchased at this McDonald's. He angrily grabbed my eyeglass, and tried to pull it off my head. The eyeglass is permanently attached and does not come off my skull without special tools.
The fracas continued:
I tried to calm him down and I showed him the letter from my doctor and the documentation I had brought with me. He (who I will refer to as Perpetrator 1) then brought me to two other persons. […]

After all three of them reviewed this material, and deliberated on it for some time, Perpetrator 2 angrily crumpled and ripped up the letter from my doctor. My other documentation was also destroyed by Perpetrator 1 [...]

Perpetrator 1 pushed me out the door, onto the street.
By chance the damage to the Eye Glass caused it to buffer up previous images storing up a sequence of photographs of the attackers. Mann has put the photos on his blog in an effort to identify his assailants, he is also seeking compensation for the damage to his Eye Glass.
Mann says that neither the embassy, French police nor McDonalds staff were willing to help him and so he has decided to put out the appeal for help on his blog.
McDonald's commented:
We share the concern regarding Dr. Mann's account about his July 1 visit to a Paris McDonald's. A thorough investigation continues and we are still working to gather the facts. As part of that process, the McDonald's France team has made several attempts to reach Dr. Mann directly.

While we work to learn more about this situation, it's clear to us that Dr. Mann and his family were not pleased with their visit; for that, we apologize.
Updated to Add
McDonalds spokespersons have supplied The Register with a further statement, which says:
Several staff members involved have been interviewed individually, and all independently and consistently expressed that their interaction with Dr. Mann was polite and did not involve a physical altercation. Our crew members and restaurant security staff have informed us that they did not damage any of Mr. Mann's personal possessions.
®