This article is more than 1 year old
Hubble spots ancient spiral galaxy that SHOULD NOT EXIST
Milky-Way-like shape 'should be space train wreck'
Astronomers using the Hubble Space Telescope have spotted an ancient spiral galaxy that's so neat and tidy it shouldn't even exist.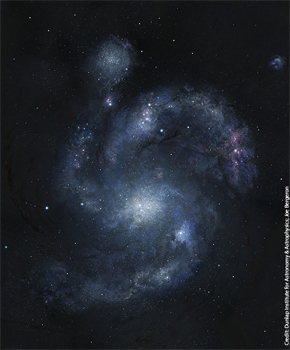 Although there are plenty of spiral galaxies these days - including our own Milky Way - in the early millennia of the universe, galaxies were a lot more messed up.
"As you go back in time to the early universe, galaxies look really strange, clumpy and irregular, not symmetric," Alice Shapley, a UCLA associate professor of physics and astronomy and co-author of the study, explained. "The vast majority of old galaxies look like train wrecks."
Nevertheless, galaxy BX442 was knocking around just three billion years after the Big Bang and is a 'grand design' galaxy, which means it has prominent well-formed spiral arms. It's also quite a large galaxy for the early universe, one of only about 30 of such magnitude that have been analysed by boffins.
The researchers first had to verify that Hubble hadn't seen two galaxies that had just happened to line up, thus creating the unusual shape. Lucky Professor Shap­ley and lead author David Law had of travel to Hawaii – to the dor­mant Mauna Kea vol­ca­no, upon which the WM Keck Ob­serv­a­to­ry is perched – to find out. There they used the light-analysing OSIRIS spectrograph to con­firm that the ob­ject is indeed a spin­ning spir­al gal­ax­y. From the top of the volcano – hopefully with virgin cocktails in hand – the astronomers peered at spectra from around 3,600 locations around the galaxy, providing data that determined BX442 is really a rotating spiral galaxy.
The boffins reckon the explanation for the ancient spiral may have to do with a companion dwarf galaxy and the gravitational interaction between the two, which may also help explain how modern spiral galaxies are formed.
"This galaxy may highlight the importance of merger interactions at any cosmic epoch in creating grand design spiral structure," Shapley said.
The study was published in the journal Nature. ®