Google HARVESTS African mobile numbers with Gmail SMS
Welcome to Google+, we hope you... TXT FOR MORE
---
Google has created a not-exactly-secure Gmail-over-text-message service for use on old mobiles in parts of Africa.
The advertising colossus said Gmail SMS will be made available to punters in Ghana, Nigeria and Kenya for the time being. Users of Google's webmail service in these countries can allow their inbound emails to be automatically forwarded to their phones in the form of SMS messages. They can also reply to those emails via their dated handsets.
"You can now send and receive emails as SMS messages using your mobile phone, regardless of whether or not your phone has an internet connection, like Wi-Fi or 3G," explained Google's emerging markets product manager Geva Rechav. He added that Gmail SMS would work on even the most basic of mobile phones that can only do voice and the short message service (SMS).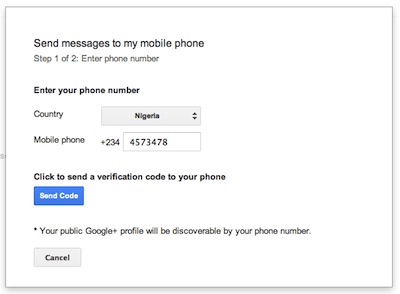 Identity-farming in action
"You can control the emails received by replying with commands such as MORE, PAUSE and RESUME. Additionally, compose a new email as an SMS and send to any email address recipient - who will find your message in the right email conversation thread!" said Rechav - who's clearly a fan of the exclamation mark.
Receiving Gmail SMS won't cost Kenyans, Ghanians and Nigerians a penny, but there is a charge, at the standard SMS rate, for replying to messages.
The new web app, of course, allows Google to store users' mobile phone numbers in their account profiles and lead the lucky punters to "discover" Google+, the company's empty warehouse of a social network. SMS also has security shortcomings, a point that Rechav failed to mention in his blog post. ®