This article is more than 1 year old
Pure Stream takes on AirPlay
Avoid the Apple tax
Pure's Sensia 200D Connect has been on its web site for a while, but now you can actually buy one. This latest incarnation of the company's touchscreen Wi-Fi radio is a significant revamp on the original Sensia and showcases Pure Stream, which enables content to play wirelessly from Android and iOS devices.
It's an obvious take on Apple's AirPlay, based on DLNA. However, Pure is restricting app access to its own products as it "can't guarantee the performance" on other devices.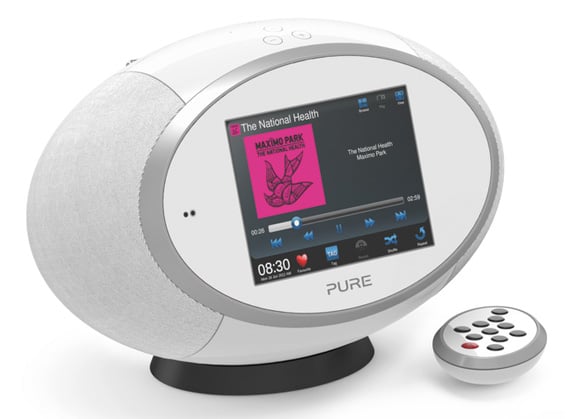 Now Pure has quite a pedigree in wireless audio products, but only the new Sensia 200D, the Contour 200i Air - a speaker system that's currently AirPlay only - and the One Flow Wi-Fi radio will be able to dip into Pure Stream at present. The company has written off a number of its current Flow (Wi-Fi) products as incompatible. Needs must, but it will certainly disappoint punters, but in the long run, it looks like a way to avoid the Apple tax that blights AirPlay products.
Although there's already a Lounge app for iOS available, Pure Stream support has yet to materialise on this platform. Android users get first dibs this time, but your device will need to be running version 2.2 Froyo or higher.
I tried it out on an original Samsung Galaxy Tab and the Sensia 200D Connect. To talk to each other, both devices are hooked up to the same Wi-Fi network and that's it. Simply find the content you want to play on your phone or tablet and then press the Pure stream icon and after a bit of initial negotiating, the music plays out of the Sensia.
The Pure Lounge app is handy but not essential – if you want to find out what it can do with Pure's download and subscription services et al, Reg Hardware's recent Pure Contour 200i Air review details these functions.
Having a 5.7in touchscreen, the Pure Sensia 200D Connect hardware can do plenty on its own. As before, it features Facebook, Twitter, RSS, Picasa and weather apps, and Pure info. Dab and internet radio stations are listed, and content can be tagged to identify tracks for purchase from within the radio. Radio stations can be added to a Favourites list and purchased music or playlists can be accessed too, as well as media servers.
The Sensia interface has had a complete overhaul which takes some getting used to but the touchscreen experience is much more responsive than it was on the original model. A nice touch is the new recording feature that takes advantage of the USB port on the back, which can also be used for updates and audio content playback.
DAB and internet radio recordings can be initiated instantly or timed, which is a great way of getting around stations that lack a listen again service. Although there's an FM receiver, this isn't graced with such niceties.
The Pure Sensia 200D Connect has a 30W RMS output and can work with a battery pack too. Available in black or white it costs £250 and the apps are free... for now. ®