The techie who stripped naked to protest invasive airport security, saying he was sick and tired of being harassed by Transportation Security Administration screeners, has been cleared of all charges.
"It is the speech itself that the state is seeking to punish, and that it cannot do," said Judge David Rees when dismissing charges against 50-year-old John Brennan, reports The Oregonian.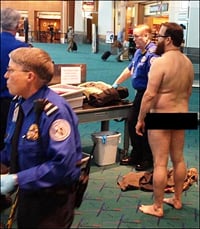 The exercise of free speech in the raw
(source: Brian Reilly via KOMOnews)
As The Reg reported when Brennan was busted for disorderly conduct and indecent exposure this April, the mildly pudgy but finely bearded lover of liberty was being screened before a flight from Portland, Oregon, to San Jose, California, when he decided that he had had it up to here with TSA intrusiveness.
In protest, he stripped down to all but his glasses, to the consternation of some of his fellow screenees and the amusement of others. After refusing to put his clothes back on and be a compliant citizen, Brennan was arrested, hauled off to the hoosegow, and held on $4,000 bail.
During Brennan's trial on Wednesday, the Multnomah County District Attorney's Office argued that Brennan had violated the city ordinance forbidding the exposure of one's genitalia to the opposite sex.
The Reg pauses this saga for a moment to point out that the fine, liberal-minded city of Portland hosts an annual "Naked Bike Ride", during which up to 10,000 happy nudies violate that ordinance in festive fashion.
Judge Rees didn't buy the DA's argument, and instead accepted Brennan's assertion that his trou-dropping was a legitimate act of protest, protected by his inalienable right of free speech.
As his supporters cheered the verdict, one friend stuck a Post-it Note on Brennan's chest. On it was written "Sir Godiva", thus linking the now-exonerated and fully clothed protester with another defender of justice who stood up and stripped down for good cause. ®