It's going to be the Worst Tech Job in the world ... or the best. It all depends on how the Olympics IT works this summer.
Michele Hyron will be either in front of a Parliamentary committee explaining why the tech at the Olympics was a fiasco, or enjoying a well-earned rest - because she is ATOS's chief integrator for the Games in London this summer.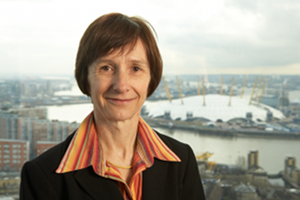 Michele Hyron: Calmer than most of us would be...
Earlier this year, I trekked out to meet her at the secret location where ATOS will be managing the Games. Hyron has a unique CV, being the only Olympic IT project manager who has worked on this stuff since 1992 – which will look good if the Games' tech works. But if it all goes belly-up, she will be in rather less demand.
SysAdmin as a spectator sport
You've had management peering over your shoulder and maybe thought you had it pretty tough, but the BOFHs at the Network Operations Centre are putting up with a spectator gallery built over their area so that random busybodies (like me) can be entertained by the sight of people staring at screens, a spectator sport to compete with golf.
In keeping with the sporting theme, the gallery has astroturf on the floor instead of carpet – of a strange, unlikely green hue. Big screens are mounted at the front in NASA control configuration and it's all unnaturally tidy for a space that will hold 180 techies at a time, 24/7.
There is distinct tension in the air when I visit, with people talking of the number of Mondays left to go. The team has been built almost from scratch for 2012, but come the summer, it will have upwards of 5,000 tech staff trying to hold things together, mostly at the 94 venues.
All this effort is expended on behalf of Atos, which is apparently Europe's second-largest IT services firm. I suppose I ought to have known that already, but I'll bet you didn't either. It does corporate IT and has no consumer products, so the Olympics are a showcase for its duller work of programming, project management, system integration et al. The payback is showing people round the main venue while showing off the fact that it has actually managed a major government-linked project without going belly-up (at the time I write this, not a forecast). Atos is ferrying IT execs round in batches, so if you're offended that someone at your senior level hasn't got an invite, let me know and I'll pass it on.
The one thing you must know
If you've met people from Atos you already know that it doesn't manage the ticketing technology, often because it is the first thing the Atos techies tell you. This is probably wise, given the spectacular mess that Ticketmaster has created and the odd way that tickets are allocated in general. Instead, Atos' job is to get the many diverse bits of IT working together securely under a serious media spotlight – which will only increase as 27,000 of them will be there, plus a billion or four watching. Hyron seemed surprisingly relaxed given how public any failure will be, especially after what happened to IBM ... but more on that later.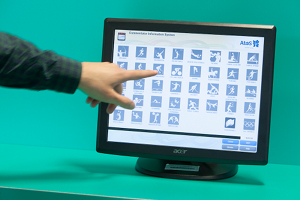 Guy Mowbray doesn't know everything: The touchscreen
tech that gives commentators something to prattle on about...
The most important Olympic Games technology that you will never see is the commentator information system. Being a Reg reader, you probably worked out that the aged jocks who witter about it being "the third-fastest time for a female Belgian 400-metre runner this year" aren't blessed with photographic memories but a mix of real-time and static data on their screens.
At least that is the theory
Until the Atlanta Games, IBM did all the IT for the Olympics, but the Commentator Information System went titsup – annoying a large (even by IBM's standards) number of the media. IBM doesn't do the Olympics anymore and its decline from being the world's largest IT firm started about then. (Though it may be because the firm decided to focus on higher margin services and software revenue – that's what IBM would say anyway.)
So it's no shock Hyron is big on change control as well as processes and there is no tolerance of "it'll be all right on the night", being structured on an ITIL best methodology. The goal of "flawless" delivery means that for 2012, Atos is taking a highly conservative approach, upgrading existing systems rather than deciding to take the risk that cloud computing would be up for the job. The firm has also managed to ditch the Oracle database, standardising on MS SQL Server with Java front ends.
Cats in a bag
BT is providing the connectivity, except for the bits done by Cisco or Aircall. Acer is supplying the PCs and some of the servers, the rest being supplied by Sun.
Omega has the job of capturing results and applying the obscurely complex rules around each event, using power from EDF, and putting it on to a PC supplied by Acer but managed by Atos, connected by BT, through Cisco routers, onto the Sun/Acer server running both Windows and Solaris, back through BT/Cisco, onto screens supplied by Panasonic (who also watch you through the security cameras) and out through BT to the IOC's tame vendors providing the general public with web information. Whew...