Software giant Oracle is not so much in the server business as it is in the stack business, and it has made no pretense about it whatsoever. In fact, the company has gone out of its way to remind Wall Street and customers alike that it has no desire to be in the volume x86 server business, but rather bought Sun Microsystems two and a half years ago (yes, it has been that long since the $7.4bn deal closed) to create what it calls "engineered systems" – and there's a new one in the Exalogic family, designed to run middleware, coming out this week.
An engineered system is a stack of x86 or Sparc machinery running either Oracle's Linux or Solaris variants, whatever storage and networking systems software is needed, plus Oracle middleware and database software, depending on the job the engineered system has to perform.
The Exadata system is a database cluster running Oracle 11g and Real Application Clusters linked to Exadata storage servers, which have a hybrid columnar data store and flash storage to radically compress databases and speed up queries and data transfers inside the cluster. The Exalogic Elastic Cloud machines run a tuned-up variant of the WebLogic application server on a cluster of x86 machinery, and an Exalytics appliance puts the TimesTen in-memory database on a single fat x86 node to chew through data at lightning speed.
The Exalogic middleware cluster takes the WebLogic Server and JRockit Java virtual machine, from Oracle's $8.5bn acquisition of BEA Systems in January 2008, and mashes it up with Coherence in-memory data-caching software, which it got through its acquisition of Tangosol in March 2007.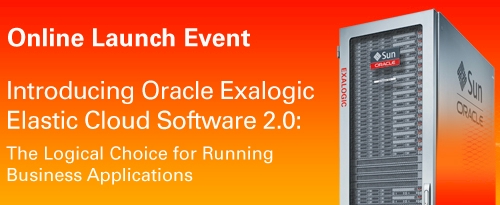 Oracle's event invitation – all the cool server geeks will be there
Oracle will launch the Exalogic 2.0 systems on Wednesday, and the invitation doesn't give away too much. Mohamad Afshar, vice president of product management for the Exalogic line, will host an event with three senior VPs: Hasan Rizvi of product development, Cliff Godwin of applications development, and Wim Coekaerts of Linux and virtualization engineering. Steve Wilson, a VP of system management, will also tag along.
If El Reg had to guess – and we have to because it's a clinical condition without hope of a cure – it looks like Oracle is going to be revving up the WebLogic middleware while at the same time packaging JVMs up inside of Xen hypervisor containers on top of Linux inside an Exalogic cluster.
Oracle promises to "protect sensitive data with complete application isolation," and just like the company does on databases and applications running on its eponymous cloud, we expect for Oracle to use virtual machines to isolate middleware instances on a single Exalogic cluster.
Oracle also promises that the new Exalogic machine will help customers "close business 10x faster," "maximize availability and productivity with faster troubleshooting," and "rapidly respond to market needs by provisioning applications 6x faster." That sounds like hooks into Oracle Enterprise Manager 12c, which is why Wilson was invited to the party.
The odds are that Oracle will also deploy the latest Exalogic software stack on top of shiny new Xeon E5-based servers, which the company debuted back in April.
Speaking of servers, here are two things to mull over. The first is that Oracle has renamed the five servers in its former Sun Fire line of x86 machinery to be consistent with the naming conventions of the Exadata and Exalogic engineered systems. Here are the old and new names, which were quietly announced last week:

A server by any other name still smells like a new car...
The feeds, speeds, slots, watts, and prices on these machines, which all use Intel's Xeon E5-2600 processors, remain the same.
The second thing to ponder is that Oracle could also launch new servers this week as part of the Exalogic revamp.
The company has still not launched machines that make use of the Xeon E5-2400, which is for two-socket boxes like the Xeon E5-2600, but which has less I/O bandwidth coming off the chips and between the chips as well as lower CPU performance.
Oracle has similarly not made use of the Xeon E5-4600, which is aimed at four-socket boxes. The E5-4600 makes a cheaper node than the Xeon 7500 or E7 processors that Oracle has been using in variants of the Exadata appliances where fat compute nodes and larger main memories per node help with database performance.
Adopting the E5-4600 in Exadata could yield a big jump in bang for the buck for Exadata engineered systems, and similarly for web-application middleware that is memory sensitive, and having big fat nodes instead of skinny ones could yield benefits for certain customers.
We'll find out more on Wednesday. ®
Similar topics