This article is more than 1 year old
Nike+ Fuelband activity monitor review
Wrist action for your inner Olympian
I'm on a roll. Well, a streak, actually. That's what Nike calls it when you hit your activity target for three days on the trot. The Nike+ FuelBand aims to get you fitter by scrutinising what you do.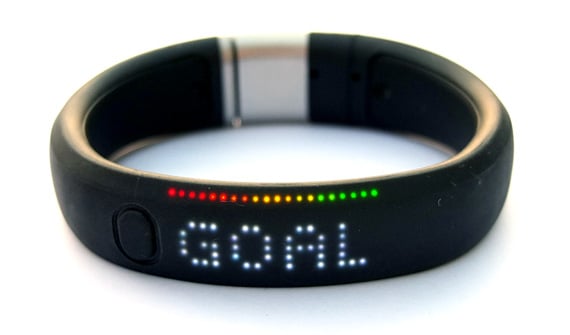 Motion carried: Nike+ Fuelband activity monitor
The theory is that by keeping tabs on how many steps you take, how quickly you're burning calories and so on, the act of tracking makes you more active. Jawbone, makers of the rival Up wristband, claims activity increases by 26 per cent when monitored.
The FuelBand is a matt black rubber-coated bracelet with metallic clasp. If it's not the right fit you can add a spacer, or remove one, until it's comfy. Although the band is chunky (and heavier than Jawbone Up, say) it's light enough to be quickly forgettable. That said, you should remember to take it offbefore swimming as it's not waterproof. Still, Nike says it's water-resistant enough for taking a shower or "dancing in the rain".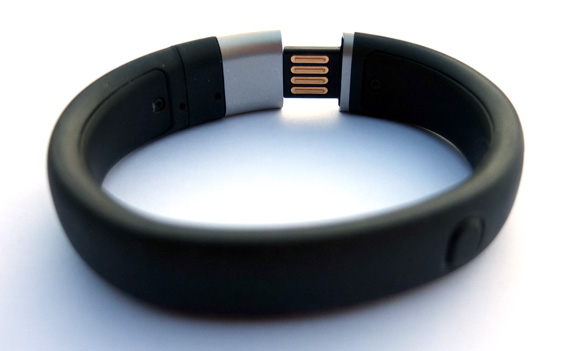 USB charging
Unlike the Up, this bracelet has an LED screen embedded, which counts your every move. One touch of the large rubbery button and the display shows the number of steps you've taken today, calories burned and the time in white characters bright enough to read in sunshine. You can configure which way up this display works according to whether you wear the FuelBand on your left or right wrist.
There's one other metric: NikeFuel. Although it's hard to work out the equivalent in steps, this measurement is based on oxygen uptake which Nike says is a reliable way of assessing activity. This is calculated with "NikeFuel algorithms using oxygen kinetics". If that sounds a bit woolly, don't worry. The main thing is it's a consistent figure so you can work out how you're doing compared to yesterday.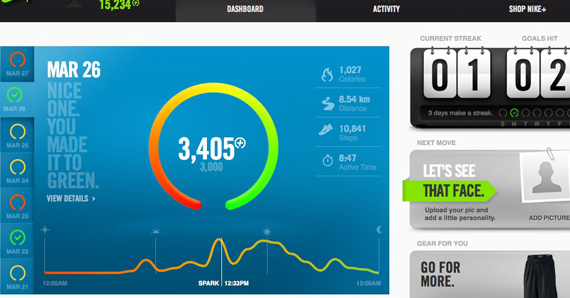 Going green: monitoring software aims to lift you out of the red
I set my NikeFuel goal to 3,000, an average level, which seems to be roughly the same as 10,000 steps. You attach the bracelet to the supplied USB connector for charging. It's on full charge again after about an hour and lasts for three to four days before it's running low.