This article is more than 1 year old
Apple seeks whopping $2.525bn Samsung patent payout
Could start tablet tax on anyone using rounded rectangles
It looks as though scheduled talks between Apple and Samsung CEOs to discuss damages for patent infringement were doomed to failure from the start, as court filings show Apple is demanding $2.525bn in costs and penalties for the use of its fondleslab and smartphone designs.
Apple claims that Samsung has knowingly infringed on its patented ideas, such as producing a tablet with a rectangular front screen with rounded corners and the technology behind using multiple fingers to control a tablet, Reuters reports.
As a result, the world's most valuable company claims that Samsung has robbed it of $500m in profits, and the Koreans have used purloined technology to overtake Cupertino in the global smartphone market. It wants retrospective damages and a court-mandated royalty on all Samsung products that use the common design features in the future.
Samsung has responded by claiming that Apple is trying to trying "to stifle legitimate competition and limit consumer choice to maintain its historically exorbitant profits." It also points out that Apple, which is a substantial Samsung customer, should be paying more for the intellectual property it uses.
The legal case between the two is set to begin on July 30 in San José, California, federal court, just down the road from Apple's headquarters. The case, administered by before US District Judge Lucy Koh, is going to be critical to Apple's global ambitions and the late Steve Jobs' personal quest to protect what he saw as his company's unique contributions to design history.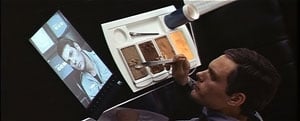 Stanley Kubrik infringes on Apple's inventions
As a result, anyone who tries to build hardware using the same shapes and functions as an iPad or iPhone will have to pay what is effectively a tablet tax. Patent-watching corporate consultant and commentator Florian Meuller says that the court filings show that Apple is seeking a future royalty scheme that would add over $30 per tablet for the privilege of using Cupertino's intellectual property.
This breaks down to $24 per unit for the basic tablet design, $3.10 for its scrolling API function, and $2.02 apiece for using tap to zoom and navigate, and "overscroll bounce" feature – that is, if Judge Koh can be persuaded that Apple has reasonable claim.
Koh has already instituted a US lockdown on Samsung's Nexus phones and Galaxy Tab 10.1, and Apple has also won a similar injunction across the EU for Samsung's seven-inch Nexus.
In Britain, it seems that common sense does prevail, after Judge Colin Birss cleared Samsung and ordered Apple to run adverts proclaiming the Korean manufacturer's innocence. ®