Apple released its earnings report for the third quarter of its 2012 fiscal year, and its numbers came in well below most Wall Street moneymen's projections – largely, it seems, on a steep quarter-to-quarter drop in iPhone sales.
Shares in after-hours trading took an immediate hit, down from just over $600 per share before the release to below $570 right after.
"We're thrilled with record sales of 17 million iPads in the June quarter," said Apple CEO Tim Cook in a statement accompanying the earnings release, focusing on one of the quarter's bright spots.
With all the hoopla about the iPhone 5 and its pent-up demand, many observers were prepared to see iPhone sales take a bit of a dive while users waited for the next-generation iPhone to appear, likely later this year – and that's exactly what happened, if you remove "a bit" from that sentence.
Apple sold 26 million iPhones in the quarter, down from a hair over 35 million in the last quarter and a dash over 37 million in the holiday quarter before that.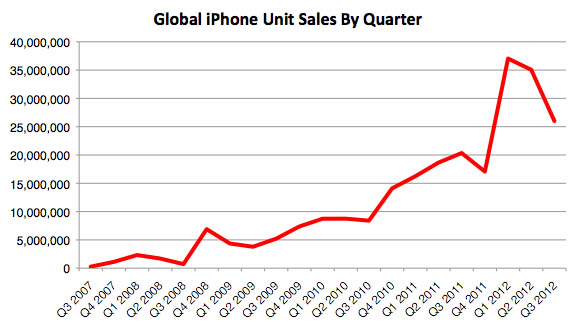 The iPhone 5 can't come fast enough for Cupertino, it seems
The Cupertino consumer-electronics maker – oh yes, and computer maker – posted quarterly revenue of $35bn and quarterly net profit of $8.8bn, resulting in earnings per share (EPS) of $9.32. When compared with the same quarter last year, the numbers look good: for the third fiscal quarter of 2011, Apple's revenue was $28.6bn, net profit was $7.3 billion, resulting in EPS of $7.7.
Wall Street was hoping for more. Yahoo! Finance, for example, surveyed 42 analysts and came up with a consensus EPS of $10.36, with the low estimate being $9.45 and the high, $12.51. The same number of analysts minus one saw an average overall revenue of $37.18bn.
Over at CNNMoney, veteran Apple-watcher Philip Elmer-DeWitt surveyed 34 institutional analysts and the same number of independents, and found the average of the institutional moneymen's EPS projections to be $10.33, with the more-optimistic independents projecting EPS to come in at a whopping $12.31. Elmer-DeWitt's institutionals had Apple's quarterly revenues to be $37.21bn, while the ever-bullish independents forecast $41.49bn.
Elmer-DeWitt's crew had a broad range of iPhone and iPad sales estimates as well, with the institutionals projecting as few as 27 million iPhone and 14 million iPad sales, and the independents as high as 38.5 million iPhones and a smidgen over 24 million iPads. One lone institutional analyst, from Societe General, it should be noted, broke away from his more-pessimistic pack and projected iPad sales to be 25 million.
One take-away from all this aside from the fact that iPhone sales can, indeed, slide and slide big-time, is that the one essential piece of equipment for an analyst – either institutional or independent – is a dartboard. ®
Similar topics