Dell has introduced a trio of new Precision Mobile Workstations, with the 17-inch top-of-the-line models offering such goodies as Intel Core i7 Extreme processors, 32GB of 1866MHz RAM, Nvidia 3D Vision Pro technology, a raft of graphics-chippery choices hooked up via third-generation PCIe x16, and four storage bays that support RAID 0, 1, and 5.
"We claim the engineering space," Dell's Precision Workstation marketing director Greg Weir told The Reg, citing users of burly notebooks in such disciplines as automotive and aircraft design, architecture, and jet-engine design. "There's a ton of people in engineering," he said, "so I'm just hitting the highlights."
In addition to engineers, Weir told us that the Precision Workstations have also found fans among media and entertainment content creators, including "roving consultants who go from one studio to the next, plus research scientists, geologists, oil-derrick drill chiefs, and the like – anybody who needs high-performance CPUs and GPUs, but in a mobile package.
Software developers, Weir said, could also benefit from the Precision Workstation line – but not merely for their number-crunching and graphics-rendering abilities.
"A lot of the software developers," he said, "they're doing VMware sessions, or Citrix." One VM, for example would be for coding, another for testing, another for debugging, another for compiling – then if one of the sessions hangs, the dev can just dump it without affecting their other work.
Needless to say, a Core i7 Extreme processor hooked up to 32GB of 1866MHz RAM can support a lot more VMs than any ultrabook could ever hope to.
You don't have to outfit your Precision Workstation with a Core i7 Extreme, however; all three models – the 15.6-inch M4700 and 17.3-inch M6700 and Covet (more on that one in a moment) – can also be outfitted with a Core i5 or non-Extreme Core i7.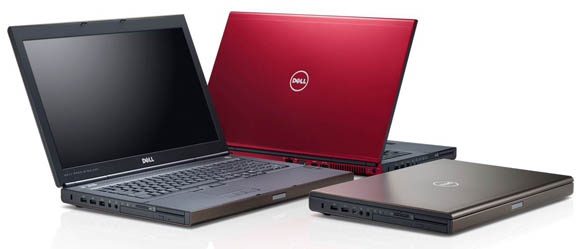 Dell Precision mobile workstation family, left to right: M6700, Covet, M4700 (click to enlarge)
You also have your choice of graphics innards: an AMD FirePro M4000, Nvidia Quadro K1000M or K2000M on the M4700, and an AMD FirePro M6000, Nvidia Quadro K3000M, K4000M, or K5000M on the M6700 and Covet.
About the Covet: it's essentially an M6700 with a prettier face, including an edge-to-edge Corning Gorilla Glass 2 display and a "Phoenix red" case.
The reason for that prettification, Weir explained, is to satisfy the aesthetic sensibilities of their design-oriented users, especially those who give presentations "right in front of their customers," as Weir put it.
"They're a little more conscious of the industrial design of the mobile workstation, so they want to have things that look a little more innovative – kind of what I call a 'shiny object'," he said, "so we incorporate that into our overall design."
You might think that with four drive bays (three in the M4700), a high-TDP processor, and a graphics subsystem with multiple gigabytes of graphics RAM, that your battery life might be measured in picoseconds – and if you're running a half-dozen VMs or real-time 3-D molecular modeling, for example, you'd be right.
However, remember that Intel Core chips have integrated graphics, and the Precision Workstations' Nvidia Optimus technology is smart enough to automatically throttle itself down and move graphics processing away from the power-sucking graphics chippery when it's not needed.
"It pushes your battery life numbers through the roof," senior product manager Mano Gialusis told us. "With Optimus enabled you get over 10 hours of battery with the internal nine-cell, and 20 hours with the slice," he said, referring to an optional external battery pack.
Speaking of external options, when hooked up to Dell's Latitude E-family docks, the Precision Workstations can power up to five simultaneous displays – that includes the one on the clamshell, of course. Without the dock, the Workstations can add two external displays.
All three of the new Precision Workstations are available worldwide on Tuesday, and Dell has announced base prices of $1,649 for M4700, $2,199 for the M6700, and $3,579 for the Covet.
Paying that last premium price, of course, is only necessary if you plan to give presentations to customers whom you'd like to dazzle with a "shiny object". ®