Magazine issues
A no less valuable improvement is the new facility for apps to update by downloading only what's new, rather than the entire modified installation file. This is a logical move after the increase in application installer pack size from 50MB to 4GB announced back in March.
It's not all rosy in the garden though. There's still no sign of the full Google Music service on this side of the pond, nor the magazine subscription service our colonial cousins enjoy. Also the Nexus 7's speech system is noticeably more competent at pronunciation when set to Americanese rather than British English. Ask it who the Prime Minister of Israel is while set to US English and the reply – Benjamin Netanyahu – gets pronounced properly but in UK English the name is quite badly mangled.
Yet if you set the system to American, it is far less capable of understanding what's said to it in the Queen's English, making you repeat questions several times. Best then to live with the wayward pronunciation of odd names, unless you are happy speaking in a fake American accent.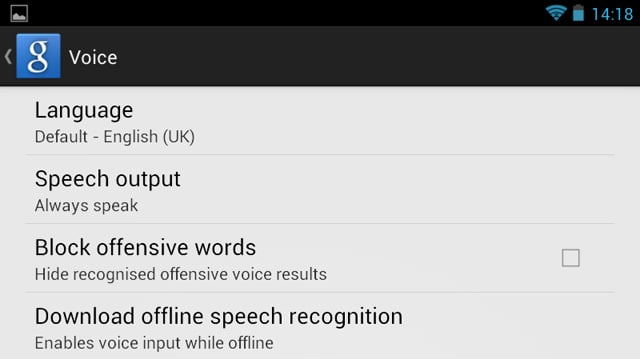 Separated by a common language: US or UK voice recognition and speech preferences
Verdict
From Ice Sandwich to Jelly Bean isn't as great a leap forward as Gingerbread to ICS was. Nevertheless, the update delivers increased performance and new features in spades. Is Android now the most refined and powerful mobile OS currently available? The case could certainly be made. ®
Similar topics