This article is more than 1 year old
Apple wins EU-wide Samsung Galaxy Tab 7.7 ban
Not ALL German courts are loving Cupertino though...
A German court sided with Apple today and agreed that Samsung's Galaxy Tab 7.7 infringes iPad design patents, granting Cupertino permission to push for a European Union-wide ban.
The same court threw out Apple's claims against the Galaxy Tab 10.1N, though. Cupertino had previously tried to squash the 10.1N in the Munich Regional Court. The 10.1N was itself a tweaked version pushed out by Samsung to avoid a previous ban on the 10.1, which remains outlawed Stateside after several appeals. But the Dusseldorf judge wasn't having any of it either.
However, the Dusseldorf judge did rule in favour of Apple on its claims that Samsung's 7.7in fondleslab infringed on Apple's patents.
Samsung was understandably disappointed at the judgment and said: "We will continue to take all available measures, including legal action, to protect our intellectual property rights and defend against Apple's claims to ensure our products remain available to consumers throughout the European Union."
Only last week Apple was ordered by a UK patents judge to run ads in UK papers to say Samsung didn't copy the iPad. Now Samsung's 7in tablet could be banned in Germany because the company did copy it?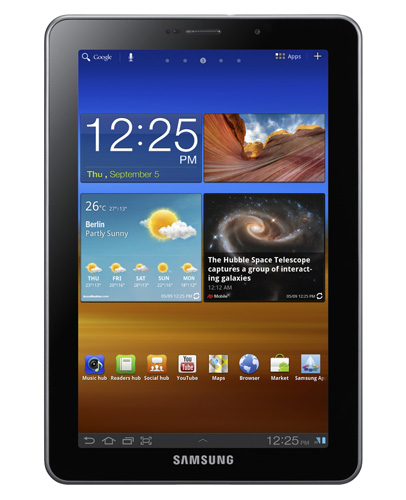 Weather in Germany isn't so sunny now
Unfortunately for the Korean firm, the European support for the 10.1N is fairly irrelevant now, as it has already revealed a successor - the Samsung Galaxy Tab 2 10.1 - so positive impact is likely to be minimal.
Apple's patent was awarded last year, but Samsung maintains the technology the patent seeks to protect was in use long before Apple filled in the application form. Indeed, last month it remarked "should Apple continue to make legal claims based on such a generic design patent, design innovation and progress in the industry could be restricted". ®