Antique Code Show Take my money! Spy Hunter at the arcade was definitely school of hard knocks, just trying to stay alive meant keeping my foot on the brake as the Peter Gunn soundtrack, with it's chugging beeps, ricocheted around my head.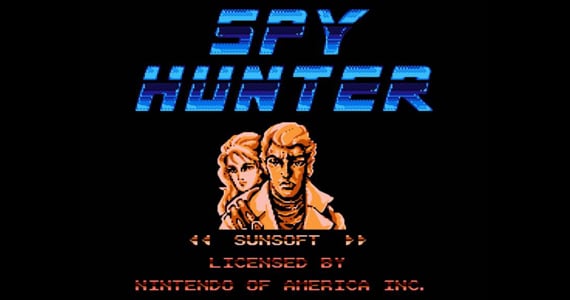 Arcade moneyspinner turned console favourite
Ported to my NES, the whole Spy Hunter experience was more fun and decidedly less expensive. My mission was to race down the highway taking out enemy vehicles in a blaze of glory that, in retrospect, seems at odds with the clandestine and covert dealing you would expect from an underground operative. OK, I know James Bond likes to put himself about a bit but maybe my trigger-happy ways account for my almost constant need for my only ally the weapons truck.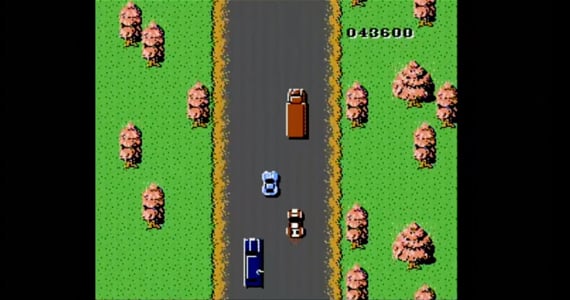 Keep on truckin'
The game itself has a simple principle, drive fast, avoid crashing and kill baddies. I start off speeding along the highway in my G-6155 Interceptor. I try to avoid smashing any civilian cars even though they seemed determined to get in my way and cause collisions. But hey, the faster I drive, the higher my score. So I have resist constantly laying on the brakes for fear of hitting something.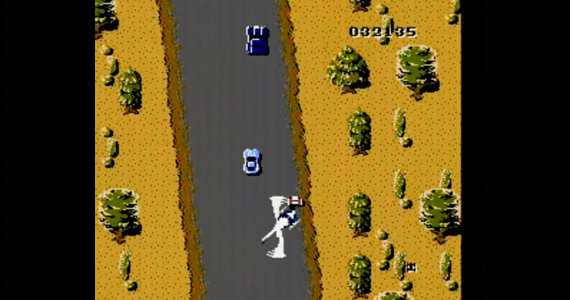 Aerial offensive
I get a short grace period at the beginning of the game to learn the ropes, which is counted down at the bottom of the screen. After this time is up, enemy cars start showing up thick and fast. I have to contend with the Switch Blade with buzz saws attached that slash my tyres. And I can't fire at armour-plated cars that, as I need to knock them off the road or use my handy fallbacks – the oil slick and smoke screen – to survive.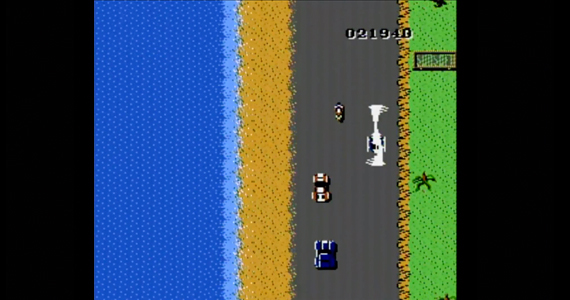 Need for speed
Beware the boss limo with a shotgun and, as if my spy life wasn't hard enough, there is a pesky helicopter that bombs me from above. Such assaults mean stealthy swerves are essential to avoid sections of exploded tarmac. I always have the feeling I am the hunted rather than the hunter and am scared of everything showing up on the screen.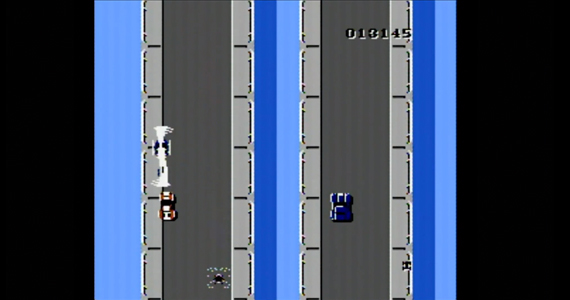 Dodge city
Thank god for my weapons truck (Knight Rider, anyone?), which drops its ramps to restock me at convenient times with different missiles, smoke bombs and oil slicks. If I wipe out any civilian vehicles the weapons truck doesn't trust me anymore and I to have to make do with what I've got.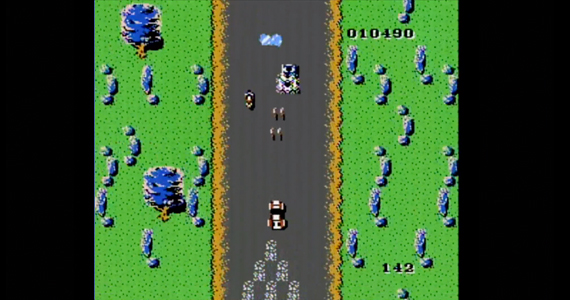 Road kill
Top down gaming of the early 1980s was never about the graphics. Indeed, all I see apart from a bunch of vehicles are some trees, tarmac and a bush. Lucky there is a boat mode to keep my attention, as the road splits and I can enter a boathouse do to battle on the water just like the Everglades boat chase in Live and Let Die.
I never stayed alive long enough to see the seasons change to winter in this game, but I am pretty sure icy roads never make for good driving conditions. I guess in John Le Carre's book, I was the spy who never made it to the cold. ®
Developer Bally Midway
Publisher Bally Midway, licensed by Sunsoft for NES
Release Date 1983
Platform Arcade, DOS, NES, Amstrad, Apple II, Atari, BBC Micro, Commodore 64, ZX Spectrum
More info Available on the iTunes app store.
More Retro Games

Streetfighter 2
Speedball 2
Brutal Deluxe
Marathon
Return to Castle
Wolfenstein
Ten... 8-bit classics