Apple Mac OS X 10.8 Mountain Lion review
Out on sale today, but is it all talk and power naps?
First look So, here it is at last, the latest big cat in the Apple game reserve. There are plenty of new features, and numerous improvements but are they enough to tempt Mac users who felt bitten by the radical changes Lion to upgrade?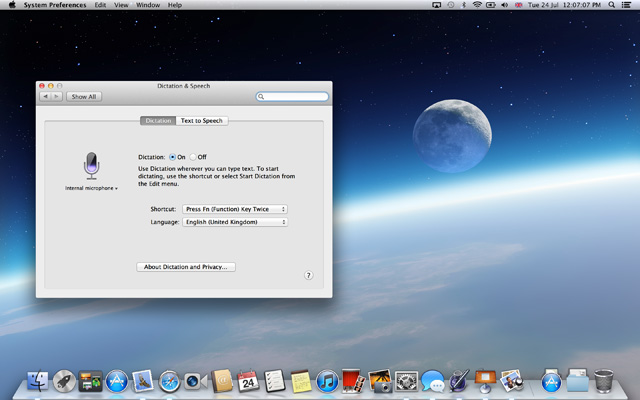 Call of the wild: Mac OS X 10.8 Mountain Lion talks up its dictation functions
Well, OS X 10.8 is not all about bug fixes. First off, I'm dictating this review because one of the new features is the facility to enter text by voice. It's pretty accurate, although I've since been back to tweak the text a little. It has strong word recognition and you can talk for ages or even pause at length, as you speak to it without a hitch.
It understands a sentence like "Is there any chance they're playing their song?" This demonstrated it understood which of those homophones was needed at which time and I simply had to say "Question mark" at the end for it to insert the appropriate punctuation. It's not perfect, for instance, it doesn't take kindly to expletives, but it's certainly good enough to have speech recognition companies worried.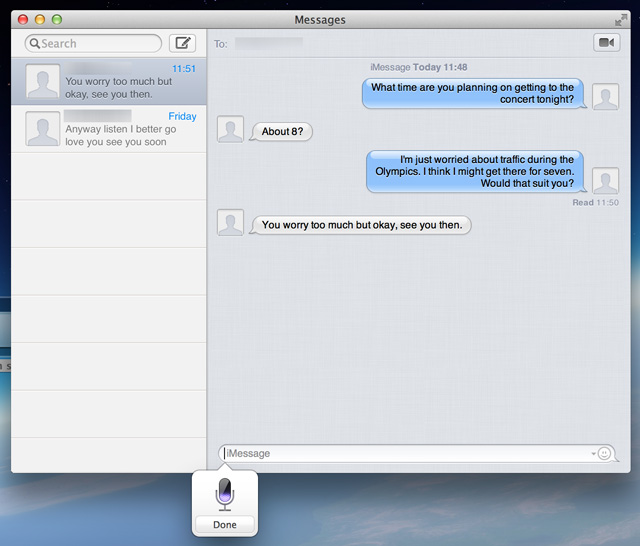 Talk your text when messaging: there was a time when people would use the phone
Not Nuance, though. Its technology is behind some Apple products, presumably including Siri, the iPhone 4S voice recognition feature, so it's almost certainly involved here. Dictation is a neat feature, launched by pressing the function key twice. How much I will use it in the future is anybody's guess, especially in a busy office with company and background noise. But for now, it's proving both useful and fun. It works across the system, so you can as easily dictate to Microsoft Word as you would Messages.
Now, Messages has already been available as a beta on Lion and it enables you to send iMessages from your Mac to other Mac users running the app and iOS devices too. It's rather like BlackBerry users have BlackBerry Messenger but on the Mac you get a desktop version. However, you'll need to be running Mountain Lion now. Still, any iPad, iPhone and some versions of iPod touch can receive iMessages complete with text, photos or even videos. Like BBM, you can see when the other party is typing their response.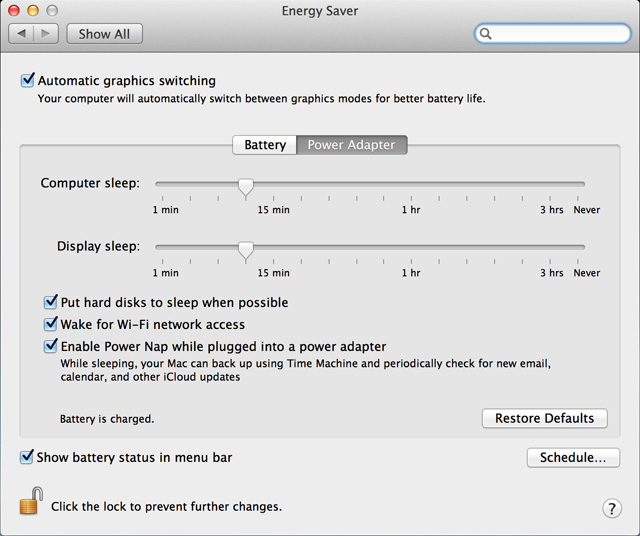 Power nap features in the Energy Saver control panel
There are, apparently, 200 new features in Mountain Lion or, as we at Reg Hardware have taken to call it, Hillside Cat. Many of these are things many users will never knowingly come across and anyway, you don't want to read a list here – Apple has one instead. Still, Mountain Lion has headline features which certainly catch the eye. Chief among these is Power Nap, which persuades your Apple Mac to do some work when it's sleeping.