Old-timer Odyssey to babysit Curiosity's Mars landing
10-year-old orbiter to keep an eye on rover's hidden descent
---
NASA has managed to nudge veteran spacecraft Odyssey, which has been orbiting Mars since October 2001 – into a better position to pick up communications from rover Curiosity as it lands on Mars on 5 August.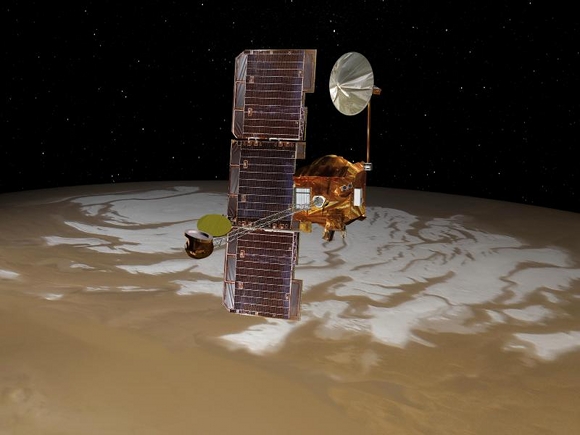 Mars orbiter Odyssey . Credit: NASA/JPL
The space agency had been a tad concerned that it wouldn't be able to talk to Curiosity at all as the Mars Science Laboratory made its way down to the Red Planet, as it can only send limited info direct to Earth once it's in the alien atmosphere. Even that limited transmission will cut off when Earth sets below the Marian horizon from the MSL's point of view.
The plan was always to have Odyssey relay the comms from Curiosity back to Earth, but on 11 July, NASA stalwart Odyssey entered safe mode and wouldn't have reached the landing area until two minutes after the rover had landed.
Yesterday, NASA beamed up the instructions for a thruster burn of about six seconds, which has pushed Odyssey six minutes further along in its Martian orbit. The craft is now operating normally again and the agency expects to hear confirmation (or not), of Curiosity's safe arrival at 06.31 BST on 6 August (22.31 PDT 5 August).
Two other orbiters are circling Mars at the moment, NASA's Mars Reconnaissance Orbiter and the European Space Agency's Mars Express. Both of them will be recording the information from Curiosity, but only Odyssey is able to relay it immediately.
"Information we are receiving indicates the maneouvre has completed as planned," said Mars Odyssey Project Manager Gaylon McSmith. "Odyssey has been working at Mars longer than any other spacecraft, so it is appropriate that it has a special role in supporting the newest arrival." ®