You may think Nokia needs to keep all the app developers it can muster loyal to the company - but last week it terminated VIP privileges for a star Symbian programmer. Nokia has since changed its mind.
The brains behind the highly regarded Gravity application, Jan Ole Suhr, was one of a number of Symbian coders who discovered their membership of the Nokia Developer Champions programme had been terminated early. This is a scheme that recognises key programmers and gives them early access to tools and technical information.
But Symbian - the mobile phone operating system now officially known as "Nokia Belle" - is no more: there are no future handsets on the drawing board, and just a small fraction of the 3,000 Nokia engineers who worked on the platform are actively developing Symbian at Accenture. Nokia spun them out last year.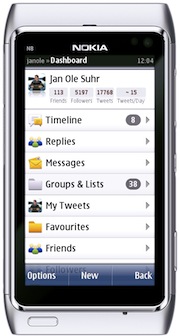 Gravity on Symbian 3
"It is hard not to see the decision to cut short membership as both shortsighted and rather mean-spirited," thinks Rafe Blandford, a former member of the NDC programme's predecessor.
Suhr said Nokia rescinded the decision this week, reinstating him as a champion. But he's still undecided about which mobile platform he should target.
Gravity handles Facebook, Twitter and Google Reader RSS feeds - and in terms of quality he has the Symbian market pretty much to himself. iPhone and Android have established apps offering the same features, and although the marketplaces for these two platforms are much more competitive, they are far larger, Suhr notes.
In the bigger scheme of things, with Microsoft's deep pockets and historical skills of cuddling would-be developers, Nokia's haste to dump Suhr shouldn't matter. But he points out something rather more significant. In the rush to bring Windows Phone 8 to market, Microsoft seems to have forgotten about app makers. He notes that a stable development kit and software interfaces are still missing in action.
With the first WP8 phones rumoured to be announced in just six weeks, this appears to be a quite amazing oversight. Just yesterday we reported a sharp fall in the number of mobile developers interested in building applications for Windows Phone. ®