Schneider moves into Cisco's Olympics crib, dims lights
Drags in suitcase full of 'leccy-saving bits for SmartCity showcase
Schneider Electric has packed up its bits and moved into Cisco House, the mega-marketing mansion looming over London's Olympic Park, where it is partnering with the networking giant on a demonstration of its SmartCity technology.
Schneider's SmartCity provides systems that help urban infrastructure components – everything from car parks and data centres to water-treatment plants – calculate the energy that's being used and switch power onto sub-parts of a facility to increase efficiency. The various sensing systems need to communicate, which is where networking giant Cisco comes in.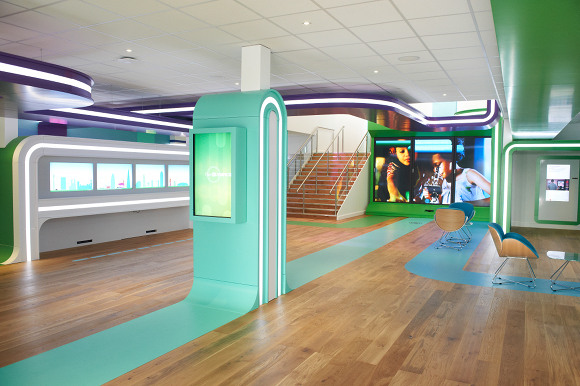 Cisco House: Does the giant telly really need to be switched on all the time?
Schneider's Smart Cities demo showcases how a city can make better use of its limited electricity supplies. On the one hand, it looks at efficiencies that can be gained by aggregating power-consuming entities, such as buildings, and getting them to respond better to large changes that affect consumption, as well as looking at consumption at a device level (restricting power to unused devices).
Schneider cites examples of energy efficiency as switching off the lighting in unattended car-parking bays or rooms in a building. From the increased efficiency point of view, spikes in demand can be detected and more capacity bought into use – so it can switch on additional automated barrier lanes when queues lengthen, and dim the power when fewer people need it.
Bandaid management
Schneider's approach can be likened to a highway traffic management system. The M25 orbital motorway around London has run out of capacity and needs mire lanes built or a relief motorway. That's the fundamental problem. It isn't going to happen. Instead a traffic management system monitors traffic levels and tries to control traffic speed to reduce queuing and, overall, shorten everybody's journey times.
No traffic management system supplier is going to recommend building extra highway capacity as that would render their systems redundant. Jo Hart, Schneider's Corporate and Solutions Marketing SVP, said: "We can build more capacity or we can consume less and free up capacity." But it looks like limited electricity supply is here to stay: global suppliers simply can't build energy generation facilities fast enough to keep up with demand.
Schneider doesn't make electricity meters, but it does perform electricity metering at the sub-system level inside a building. Of course electricity supply utilities won't accept Schneider device-generated estimations as an invoicing point. Instead customers can use it to validate the electricity utility bills they get.
Could Schneider buy electricity wholesale and then retail it to biz, using its energy-saving smarts, and cream off the margins?
Hart said Schneider isn't doing this and there are no plans to do it, but said it is acting as an electricity supply advisor, risk analyser and purchaser for businesses such as Hilton Hotels in the USA, and aiming to enable lower overall supply costs for the hotel chain and similar customers.
ISPs could throttle your 'leccy, too
Hart said that, in the future, internet service providers could become significant players in the energy supply monitoring area because they have "unrivalled intelligent access" into commercial and residential buildings. What might happen is that they offer end-point electricity usage applications, perhaps linking to Schneider monitoring equipment in the building and communicating with the facilities manager, for example, to advise of wasteful consumption.
The SmartCity technology also integrates weather forecasting and this could be used to understand that a data centre in location A is about to experience a heatwave, putting strain on its cooling equipment. Some of its work could be then moved to an alternate data centre in cooler location B, and thus lower electricity bills and potentially prevent data centre resource outages through electricity limitations.
Electricity: optimise supply, minimise waste
The problem we all face us that demand for electricity is rising, yet environmental concerns are causing increased regulatory activity to lower carbon emissions, a substantial proportion of which are caused by traditional electricity generation.
Therefore, as Hart said, we have to make better use of the electricity capacity we have and that means aggregating consuming entities to optimise and reduce their overall consumption, and adding intelligence to individual electricity-using devices and sub-systems so their electricity use can be sensed, measured, and turned on and off to reduce wasted power and increase efficiency.
Schneider can do both of those things and Cisco gear can carry the Schneider-generated bits to apps in data centres that process the bits and advise operators on what to do – or else simply do it. You can look at Cisco House, perched up in its million-dollar location on a shopping mall roof overlooking London's Olympic Games site, and shake your head at the unreality of it, but the message Schneider is putting out through its part-sponsorship of the house is real enough.
Energy supply is limited and going to stay limited. So we have to stop wasting it and the only way we're going to be able to do that is by making electricity-using devices, sub-systems and aggregated groups of buildings, which are able to measure the electricity they use and both optimise its supply and minimise waste. Either that, or move in with Squirrel and Stubs in the Bio-Dome... ®