This article is more than 1 year old
Twitter airport bomb joke conviction binned in common-sense WIN
Obviously, you must be having a laff, says High Court
A bloke found guilty of tweeting a "menacing" joke about blowing up a UK airport has had his conviction quashed by the High Court today. A collective sigh of relief was heard moments later from comedians addicted to the micro-blogging website.
Paul Chambers, 28, was waiting to fly from Doncaster's Robin Hood airport to Belfast to see his girlfriend, whom he met on the social networking site, when snow closed the airfield and delayed his flight.
He vented his frustration in a series of tweets to his squeeze Sarah Tonner, now his fiancee, including a suggestion that he had considered "resorting to terrorism" to ensure he could visit her.
A couple of hours later, he tweeted this notorious joke, which came to the attention of airport police five days later:
Crap! Robin Hood Airport is closed. You've got a week and a bit to get your shit together otherwise I am blowing the airport sky high!!
South Yorkshire police cuffed Chambers while he was at work seven days after he had posted the offending tweet. He was later convicted at a crown court in 2010 on the grounds that the message was considered "menacing per se", and so he launched a celebrity-backed series of appeals against the guilty verdict.
Mr Justice Owen and Mr Justice Griffith Williams said in the High Court today that the facts needed to be considered in context, pointing out that the tweets had clearly appeared to be a reference to the airport closing due to adverse weather conditions.
"There was no evidence before the Crown Court to suggest that any of the followers of the appellant's 'tweet', or indeed anyone else who may have seen the 'tweet' posted on the appellant's time line, found it to be of a menacing character or, at a time when the threat of terrorism is real, even minimally alarming," the High Court heard.
In its assessment of the case, the High Court judged that Chambers' appeal against his conviction should stand. The justices said:
The grievance addressed by the message is that the airport is closed when the writer wants it to be open. The language and punctuation are inconsistent with the writer intending it to be or to be taken as a serious warning.
Comedians, who naturally took to Twitter to celebrate, were delighted by the justices' sudden outbreak of common sense.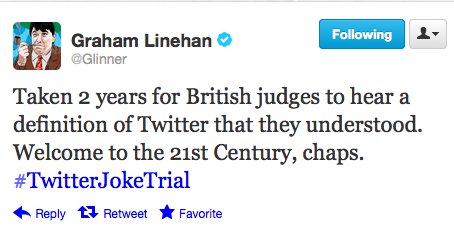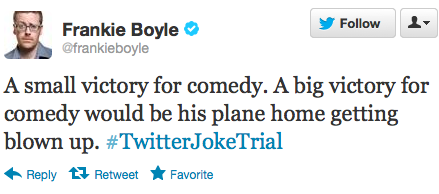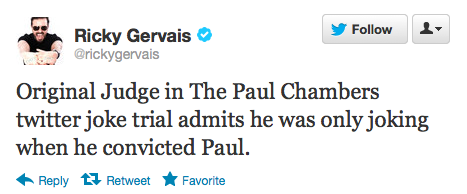 Chambers' High Court win can be viewed here [PDF]. ®