Integrated circuits and storage systems biz LSI scored $622m in revenues in its second 2012 quarter, 26 per cent higher than a year ago and 6 per cent higher than the first quarter after "better-than-expected growth". Profits were $59m, 11 per cent up on the year-ago profit number but $16m less than the first quarter. But the market seemed pleased with the result, as evidenced by the jump in share price of 16 per cent, according to Bloomberg.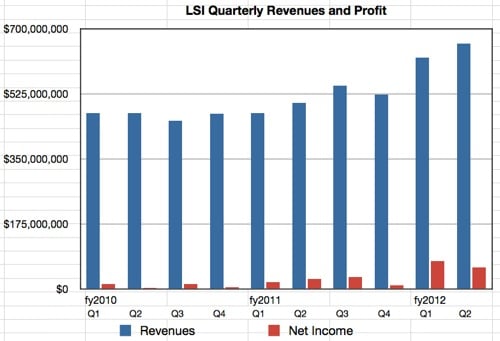 The second quarter profit number was reduced because of "a net charge of $62m from special items, consisting primarily of approximately $26m of stock-based compensation expense, $30m of amortisation of acquisition-related items and $6m of net restructuring and other items." Bad timing.
CEO Abhi Talwarkar's released statement said the wider economic environment was challenging but said LSI had experienced strong demand for its flash products.
In the earnings call Talwarkar said LSI's growth was "driven by increases in our HDD business and better-than-expected growth in our newly acquired SandForce flash business."
Flashing forwards
He said LSI is "rapidly building momentum in the fastest-growing sectors in technology, such as flash-oriented storage and mega data centres."
He was abundantly clear about LSI's flash tactics: "As flash storage adoption increases in notebooks and data centres … we focused our strategy on hitting the inflection point of flash adoption, and as a result, have achieved key design wins that we believe will enable LSI to be the leader in this emerging, high-growth market segment. We believe we have the broadest and most competitive lineup of flash-based storage solutions." Really? That's a red rag to other flash bulls like Micron, OCZ and SanDisk
Talwarkar said that LSI's SandForce flash processors could be used as-is but also had a custom capability that increased their appeal to OEM customers: " Enterprise is a great example, where we have 6 different enterprise SSDs that are shipping now." Some of these use the custom capability.
The next quarter should see LSI building revenues from its Nytro PCI flash and Axxia communications processors products. Talwarkar thinks flash product revenues will grow 400 per cent to $280m from LSI's $70m in 2011, while the market as a whole will only grow 100 per cent. The PCIe flash area, pioneered by Fusion-io, is a great place to be.
Specifically, Talwarkar said: "We expect double-digit million revenue contribution from PCIe flash adapters in Q3, driven by ramps in high-performance data warehouse applications." Initial shipments of LSI PCIe flash in Cisco UCS blade servers should take place in the fourth quarter.
Hybrid drives
Talwalkar said LSI is "well-positioned for [2.5-inch] 5-millimetre hybrid (flash plus disk) drives, which are expected to be a volume platform for Ultrabooks." These drives are not ready yet and he believes that they must be before hybrid drives become realistically feasible for Ultrabooks; 5mm being a magic form-factor.
He said: "I very much believe and know that hard drive companies are working around those types of form factors and have roadmaps." So there you go: Seagate, Toshiba and Western Digital are working on 2.5-inch, 5mm thick drives containing a single platter, 500GB probably, and a slug of flash to get over disk drive latency and keep the Ultrabooks as speedy as possible.
Another hybrid drive format is to have a combination of a separate SSD and HDD, a dual drive approach: "We're participating in dual drive as well ... We've got a number of dual drive design wins with our SandForce product line. So we're going to be positioned really well in pure SSD environments, in dual drive, as well as hybrid." That probably lies behind his claim that LSI has "the broadest and most competitive lineup of flash-based storage solutions."
The outlook for the next quarter is for revenues of between $620m and $660m; flat at best sequentially but 17 per cent up annually. LSI is being cautious because of worries about the world economy "and declines in shipments of SoCs (System on Chip) and preamps for hard disk drives," due to an over-build of drives leading to inventory corrections. That should only last a quarter. ®