This article is more than 1 year old
QLogic: We can't flog adapters when no one's buying servers
Pins hopes on ASICs, mystery server-based products after dire results
QLogic, in the stagnant and low-growth adapter businesses, has announced weak quarterly results, and is pinning its hopes on ASICs and soon-to-be-revealed new server-based products unlike anything it has produced before.
Q primarily sells adapters that connect servers to networks such as the Fibre Channel HBAs (Host Bus Adapters) used for storage area networks (SANs). It competes neck-and-neck with Emulex in this market. Results for its second financial 2013 quarter were revenues of $130.4m, 13 per cent down annually and 3.5 per cent lower than the first quarter – a dismal showing.
Profits were $18.386m, 43 per cent lower than a year ago. This is dire. In the prior quarter its profits were $138.3m, more than revenues of $135m; this apparently amazing feat was due to Q selling its InfiniBand business to Intel for $125m in January.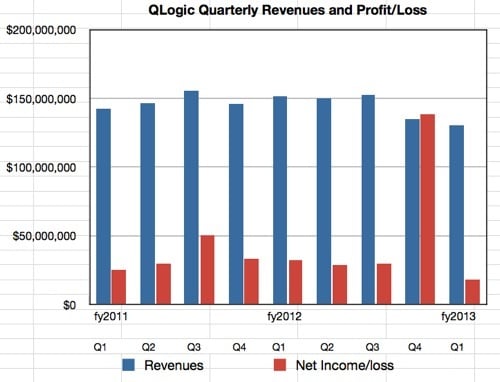 CEO Simon Biddiscombe says he is sticking to Q's strategy of Adaptive Convergence and driving long-term growth in revenues and profitability. Adaptive Convergence means converging different adapters so one model can do the work of two or three others. For example, having 16 Gig Fibre Channel and 10 Gig Ethernet with both FCoE and iSCSI, can pass through the same adapter hardware.
For the moment, and in quarterly results terms, that seems to mean shrinking the business. We jest, but look at the chart above, QLogic has been going nowhere for two years and is downward bound, both in revenue terms and profits-wise. It looks like a mature business increasingly losing its way.
QLogic's business problems
Server unit growth is stalled; fewer servers means fewer adapters. FCoE, the great white hope of the SAN industry, sending Fibre Channel traffic over Ethernet, is a non-event so far. It may still happen, who knows, but as a market drama it's on the same level as watching paint drying. Q hopes for good news here, being convinced customers will eventually move to converged networking products.
The general economic environment is not favourable and there is another issue. There is a big growth in unstructured data storage on filers and Q isn't big in filer connectivity, but it aims to be, courtesy of its protocol ASICs. These ASICS are part of Q's adaptive convergence strategy, as they provide both block and file access capabilities.
Q wants to be the biggest seller of product in this market, which it thinks will be worth $100m this year, with Biddiscombe saying: "We have key target design wins with the loading storage vendors in the market whose block and NAS level storage subsystems represented the vast majority of revenue for the external controller -based disc market during calendar 2011."
Despite this, the outlook is not great, with Q expecting the next quarter's revenues to be between $115m and $120m – a big drop. It's still downwards-bound and Biddiscombe blamed the economy and server sales in the earnings call: "Server unit sales are falling short of analyst projections particularly across our traditional customer base ... This is having a direct impact on our business which is highly correlated to the performance of the server market. Beyond servers, there has also been a softening of expectations for the storage market."
He claimed customer interest in Q's adapter products is strong: "The number of new designs we are pursuing and the success rate thus far is at an all time high creating an important pipeline looking programs." Yes, yes, okay, but the revenue trends are horrible.
Emulex catching up
How do QLogic's results compare to arch-rival Emulex which also ships adapters?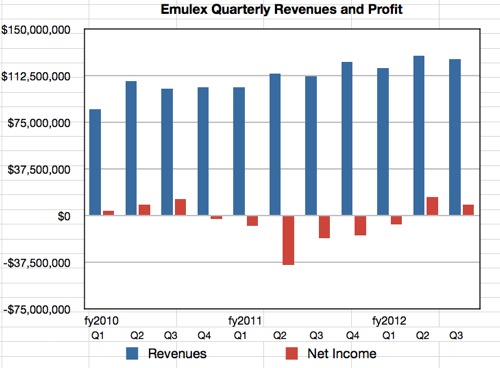 Emulex' results show a revenue growth trend with a horrible excursion into loss-making in its financial 2011 year and the first financial 2012 quarter. It makes slightly less in quarterly revenue terms than Q but its trend is up and Q's is down. The two could cross in a couple of quarters unless Emulex stumbles or Q finds away of kick-starting its business.
Where can QLogic go for growth? What can it use that great slug of cash, gained from selling the InfiniBand business, for?
The get-out-of-jail card
Biddiscombe said Q has something up its sleeve: "We will also shortly be deploying highly innovative new products which solve significant data centre problems and will result in increased available markets. These exciting products are unlike anything we have previously undertaken and represent promising new expansion opportunity. A public announcement on this topic will be forthcoming shortly."
He added it will be a server host-based product.
Q thinks the macroeconomic worries are relatively short-term, and has been squeezing its sales and marketing costs, and also its general admin costs, in order to focus cash on engineering developments needed for the coming products. This has to pay off. with revenues getting back up to the $150m/quarter level or Q will have to start shrinking its cost structure and laying people off.
Biddiscombe said: "If revenues don't recover the way we expect them to, then clearly we will deal with the operating expense structure at that point in time." The CEO expense might be one that the board could consider then too.
We expect Q to launch its new technology in the next couple of months. This stuff, the new products and the ASICS, has to work or Q will be overtaken by Emulex and stagnate. ®