Hobbyist builds working assault rifle using 3D printer
It hasn't blown to pieces yet
Hobbyists have used 3D printers to make guitars, copy house keys, and bring robot dinosaurs to life, but a firearms enthusiast who goes by the handle "Have Blue" has taken this emerging technology into a new realm by assembling a working rifle from 3D-printed parts.
Specifically, ExtremeTech reports, Have Blue used 3D CAD files to print the lower receiver part of an AR-15 class assault rifle – the style of gun the US military has called an M16. The lower receiver is sometimes referred to as the "body" of the weapon, which houses the trigger assembly, the magazine, and the safety selector.
The lower receiver of a factory-produced AR-15 is usually made of metal, typically stamped aluminum. Have Blue made his out of the standard ABS plastic used by low-end 3D printers. He then combined it with off-the-shelf, metal AR-15 parts to complete the weapon.
The next step was to actually fire it. Have Blue started by chambering the gun for .22 caliber pistol rounds, a relatively low-powered ammunition. After firing 200 rounds, he announced to an online AR-15 forum that it "runs great!"
He then re-assembled the weapon to use .223 caliber rifle ammunition and tried again. "No, it did not blow up into a bazillion tiny plastic shards and maim me for life," he said, but the combination of the homemade and off-the-shelf parts wasn't working all that well, causing the gun to jam. Try, try again.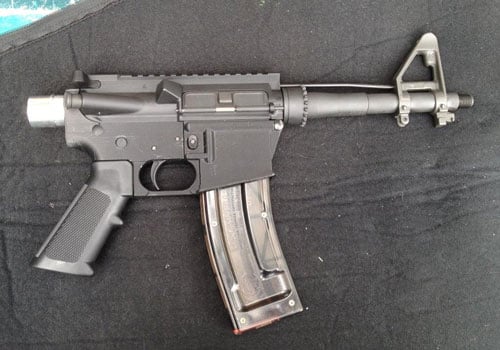 It's 3D-printed plastic, but it works, and it has no license or serial number. (Source: Haveblue.org)
Where this all gets interesting is in the potential legal ramifications of what Have Blue has done. It is legal in most US states to purchase AR-15 style rifles, provided the purchaser is licensed, which involves a background check.
It is difficult to get around the license requirements by purchasing the gun in pieces and assembling it yourself, because at least one piece – the lower receiver – carries a serial number and must always be purchased from a federally licensed arms dealer.
Without the lower receiver, the gun can't fire, so under US law the lower receiver essentially is the gun. The other components are less closely regulated and can be purchased online or from unlicensed dealers.
But Have Blue didn't buy his lower receiver from anyone. He made it himself. Using his method, potentially anyone could assemble a completed rifle from mail-order parts without any government licensing or registration at all.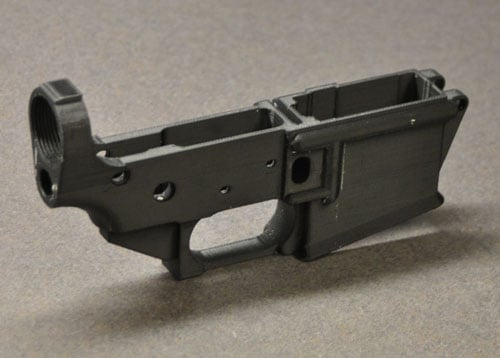 It may not look like much, but the gun won't fire without it. (Source: Thingiverse.com)
It's not entirely as simple as that, though. First, although Have Blue says he used between $30 and $50 worth of plastic to print the gun, 3D printers that can output items the size of the AR-15 lower receiver are still expensive. But their cost is declining.
Second, a 3D printer cannot print ammunition. But given that accused Aurora, Colorado shooter James Holmes was found to have stockpiled some 6,000 rounds of ammo that he purchased online, the prospect of individuals being able to assemble working, unlicensed weapons using 3D printing technology should give regulators in the US and abroad some pause. ®