Bradley Manning's lawyers seek to show 'cruel treatment'
If they can prove illegal pretrial punishment, charges could be dropped
Bradley Manning is seeking to prove that he was held in torture-like conditions after being arrested on suspicion of giving classified army documents to whistleblowing site WikiLeaks, and has asked the judge to allow seven expert witnesses to testify at his next pretrial hearing on 1 October, according to documents filed by his defence team on Friday.
The witnesses will include medical and psychiatric experts who will say that Manning's eight-months solitary confinement at Fort Quantico – where he was allegedly kept naked, drugged with anti-depressants, and forced to sleep in a straitjacket – was not justified on mental health grounds.
The defence team led by David Coombs will put the case that the charges against him should be thrown out "owing to Manning's illegal pretrial punishment". The defence team's website said:
The Defense is requesting the Court to dismiss all charges with prejudice owing to the illegal pretrial punishment PFC Manning was subjected to in violation of Article 13, UCMJ and the Fifth and Eighth Amendments to the United States Constitution.
Manning's lawyers filed a 113-page document to the court, but were only allowed to release parts of the document to the public.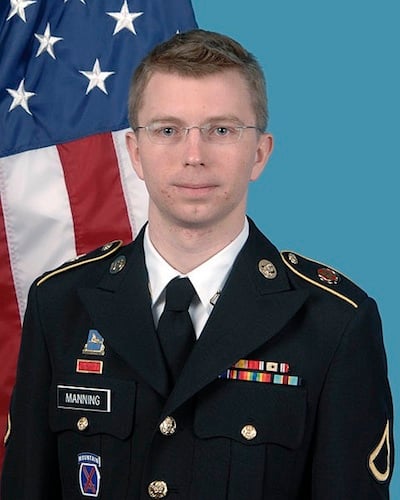 Bradley Manning, Credit: US Army
According to this Guardian report, Manning was often kept naked while in solitary confinement at the military base of Fort Quantico, and had to be drugged heavily with antidepressants to bear the conditions. At night he was placed in a suicide prevention bed, blanket and smock, which his lawyers have requested to produce as part of their evidence in court.
Suicide prevention beds feature full locking systems that restrain the arms, legs and body and the smocks and blankets are akin to straitjackets.
Though the US Army argued the confinement was essential for Private Manning's own safety, on Prevention of Injury grounds, experts said they repeatedly disagreed with this mental health assessment, saying that he had not self-harmed or attempted to harm anybody else and did not appear to be at risk of suicide.
The witnesses will also testify to the psychological harm of isolation and solitary confinement.
The redacted documents can be seen here.
The case, which is being heard by Military Judge Denise Lind at a military tribunal in Fort Meade, will continue on 1 October. ®