This article is more than 1 year old
Google snaps bird's eye view of Olympic Village
Forget relying on realtime GPS data. Look at this pretty picture instead
Twitter fanatics and texting-obsessed supporters of Team GB may have hampered the GPS units of competitors taking part in the Men's Olympic Cycling Road Race on Saturday, but no bother as Google has added a pretty picture of the London 2012 village to its Maps service.
The search and ad giant updated its high resolution aerial and satellite imagery for Google Earth and Maps covering 25 cities and 72 countries/regions just in time for the Olympics' opening ceremony.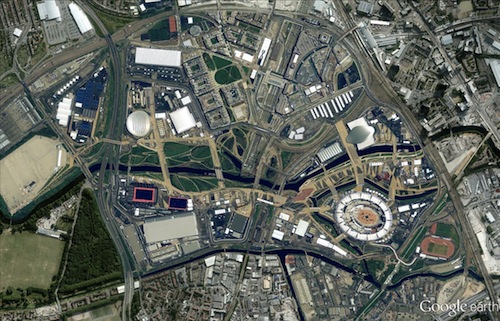 Mountain View snapped the image of the Olympics Village in Stratford, East London, in May this year.
Presumably, if all other tech fails, television commentators can at least draw Olympic fans' attention to Google's birds eye view of the village.
Britain's metropolis is also among the cities being updated with 45°imagery by Google. The 45° images provide a slanted view, rather than a straight overhead perspective, enabling a three-dimensional effect.
The company extended its indoor mapping service to the UK earlier this month. ®