This article is more than 1 year old
Microsoft: Gmail rival Outlook.com will 'look good on your iPad' 
Cloudy Hotmail successor features Metro-like UI
Microsoft has launched a successor to its venerable Hotmail web-based email service, in hopes that a revamped UI, integration with social networks, and tighter ties to the software giant's cloudy online services will woo users away from rivals, in particular Gmail.
"We think the time is right to reimagine email," Microsoft's Chris Jones wrote in a blog post announcing the service. "So today, we're introducing a preview of Outlook.com. We realized that we needed to take a bold step, break from the past and build you a brand new service from the ground up."
Although Redmond's new webmail borrows its branding from the Office suite's flagship desktop messaging client, however, it doesn't try to mimic the desktop experience in the browser. Rather, Outlook.com has its own, Metro-like UI that aims to minimize clutter and make efficient use of screen real estate, even on small devices.
"Half the screen space in Gmail is wasted," said Brian Hall, general manager for Windows Live and Internet Explorer, in a briefing with The Reg. "People just learn to tune it out."
With Outlook.com, Hall said, the goal was to make every control context-aware, so that only those menu options that are relevant are visible onscreen at any given time. For example, when the user isn't reading a message, the "Reply" menu disappears completely.
In addition, the controls are all designed to be large enough that everything is accessible from a touchscreen, Hall said, "even at iPad resolution."
The web-based message viewer is similarly context-aware. For example, when an email contains a set of photos as attachments, Outlook.com can display them as a slideshow, rather than simply listing the filenames.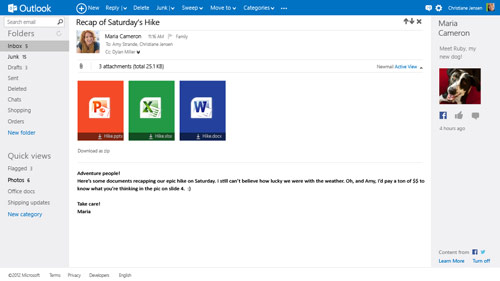 Webmail goes cloudy with integrated social networking and document viewers.
For messages containing Office documents, Outlook.com integrates with the Office Web Apps, enabling instant previews of Word, Excel, and PowerPoint documents within the browser window.
Other kinds of content the email viewer can recognize include YouTube videos, calendar appointments, and updates from shipping services – including FedEx and UPS.
The email app also integrates seamlessly with Microsoft's SkyDrive cloud storage service. Very large files are automatically sent as SkyDrive links, rather than attachments, and incoming SkyDrive links look like ordinary attachments within the Outlook.com viewer.
All synced up
According to Hall, some 17 per cent of the email messages a typical user receives today are updates from social networks. Outlook.com tries to make the relationship between email and social networking more meaningful by integrating directly with Facebook, LinkedIn, Twitter, and others.
The Outlook.com address book can sync contacts from social networking accounts, including photos. It also provides tools for conducting social networking activities without leaving the site; for example, users can write on their Facebook contacts' walls or initiate Facebook chat from directly within Outlook.com.
When displaying an email from a social networking contact, Outlook.com might also display that contact's latest Facebook or Twitter update.
Hall says Microsoft plans to integrate Skype calling into Outlook.com in the near future.
Like its rivals, Microsoft's new webmail is ad-supported, but Redmond is taking pains not to alienate users with too much intrusive advertising. Initially, all the user sees are unobtrusive, text-based ads. Those become graphics when the user rolls over them, and clicking on them displays a pop-up box with more information and links.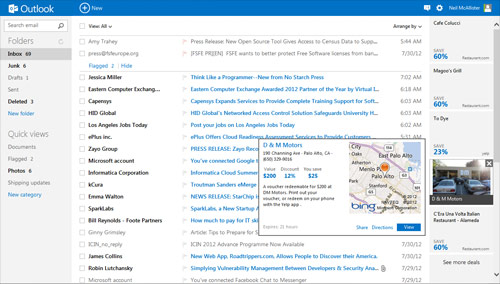 They have to pay the bills somehow.
What's more, when Outlook.com detects that an email thread is a person-to-person conversation, rather than something from a mailing list, ads are disabled automatically.
"When you're emailing to another person, that's when it can get dicey," Hall told El Reg. "I might be telling someone that my mom has cancer and see ads for beauty salons."
Outlook.com began signing up new users on Tuesday. Current Hotmail customers can also migrate their existing accounts to the new service, taking their inboxes and all their contacts with them. They can even keep their current Hotmail.com email addresses, if they choose.
Hotmail users will not be forced to make the switch, however. If they try Outlook.com but decide they don't like it, they even have the option of switching back to Hotmail.
That's for now, at least. Hall told El Reg that although Microsoft will operate both webmail services "for a while," the long-term plan is to move everyone to Outlook.com. Just how long-term that plan is, he declined to say. ®