Seagate may not have done as well as it had hoped to do in its latest quarter, which was down on the previous three months, but its $1bn earnings are still much, much better than a year ago.
The disk drive dealer also defied industry speculation by failing to announce an OCZ acquisition. But it did say it could buy an SSD supplier.
Western Digital's revenues were higher, of course, but Seagate is still the disk drive industry leader on an annual revenue basis. Seagate has a new SSD is coming, co-developed with Samsung, and more hybrid drives will appear.
Bulked up by the acquired Samsung disk drive business, revenues for its fourth financial 2012 quarter were $4.48bn, the reset figure it advised a three weeks ago, down from the originally expected $5bn, but a full 57 per cent higher than a year ago. They increased just 1.9 per cent from the third quarter though, as demand from the Thai flooding episode died away.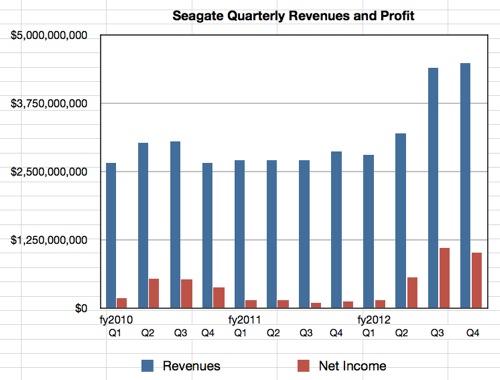 Profits were $1.013bn, an astonishing 751 per cent higher than a year ago, when Seagate was in a slough of profits despond. The profit was 8 per cent lower than the previous quarter as Seagate had an enterprise drive quality problem that had to be worked through. This was caused by "a particle contaminant coming from a supplier 3 levels down in the supply chain," and took some finding. The supplier was replaced and 1.5 million drive shipments were lost.
Drive shipments were 66 million, a 42 per cent share of the market, which compares to WD's 71 million in its latest quarter. WD's revenues were $4.8bn and its profit $745m, so it whupped Seagate in revenues and unit ships but not earnings for the quarter. Seagate really did make some bucks from the Thai flood drive shortages that affected WD in previous quarters. Whether it can sustain that level of profitability is doubtful.
Seagate's full financial 2012 revenues were $14.939bn with profits of $2.86bn. Last year's figures were $10.97bn and $511m respectively. WD's fy 2012 revenues were $12.48bn with profits of $1.61bn. On an annual revenue and profits basis, Seagate is still the hard disk drive industry leader.
OCZ
There had been speculation that Seagate would announce the acquisition of flash solid state storage vendor OCZ, but – sadly for OCZ stockholders – it did not. It did announce the appointment of Gary Gently as the SVP and general manager in charge of its SSD business however. Gentry joins from Micron where he was the general manager of its enterprise SSD business, and he worked at Seagate previously.
Reuters reports CFO Pat O'Malley as saying Seagate could buy an enterprise SSD supplier with a good share of the market... STEC maybe? He's quoted thus: "We look at all technology product providers [for mergers and acquisitions] but what I would say is that on the enterprise SSDs, there's probably only one of them that really makes any significant money."
He didn't identify it and wouldn't discuss OCZ specifically.
Road map
In Seagate's earnings call, CEO Steve Luczo said a new flash drive was coming: "Our technology partnership with Samsung has progressed on plan and has resulted in a highly competitive Tier 0 product. We expect to be shipping customer test units of this product at the end of this quarter."
A third-generation hybrid drive, a notebook-class disk drive with on-board flash cache, will appear in the autumn, sand an enterprise hybrid drive will start demonstration unit shipment later in the year. A few OEMs have asked for exclusivity with some of these hybrid products.
Luczo also mentioned the DensBits SSD controller technology acquisition: "We are also jointly developing a next-generation solid state controller technology with DensBits that's focused on breaking through current cost, reliability and performance benchmarks in the client and enterprise markets."
Regarding Seagate's solid state strategy, Luczo said: "We are confident in our approach to these markets, where we leverage our customer relationships and technical capabilities and focus on building core technology with strategic partners to produce best-in-class devices and solutions."
That doesn't sound like he's intent on flash company acquisitions.
The outlook for the next quarter is not impressive, with revenues down to $4bn on the assumption of flat demand and a continued improvement in the average capacity of shipped drives. It's all down to the economy and decelerating PC sales, says Seagate. ®