Apple iPad fondlers are about to enter a THIRD DIMENSION
A dimension not only of sight and sound but of Kinect
---
Apple has designed three-dimensional touch technology so iPad fanbois can "pull" virtual 3D objects off the tablet screen.
The US patents office has granted the secretive secretor of shininess a patent on a method of creating and modifying 3D objects by detecting hand movements, similar to Microsoft's Xbox Kinect games controller. The protected Apple tech could allow users to build and then tweak three-dimensional objects with their hands.
Patent 8,232,990 "Working with 3D objects" was filed by inventors Nicholas King and Benjamin Todd, and awarded to Apple yesterday along with 22 other new patents.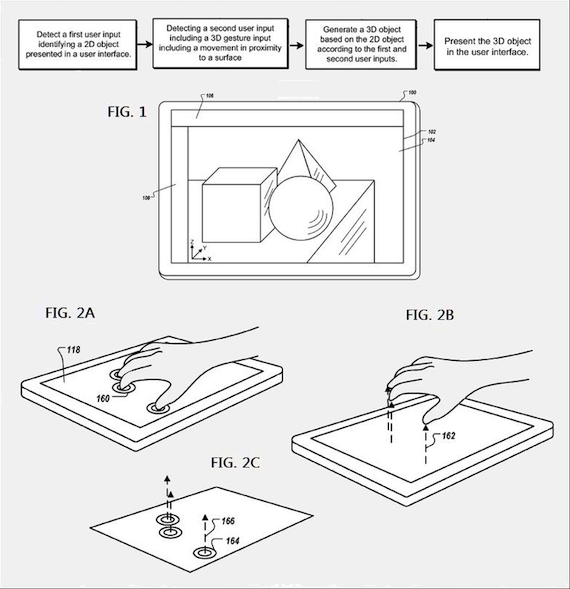 From 'Working with 3D objects'
The idea is that by lifting your fingers off the screen of an iPad, you can "pull" a 2D object out of the on-screen scene, and render the 2D image as a 3D object. For example a 2D triangle could be "pulled" off the fondleslab's display to create a 3D prism, shown on the flat screen using software.
The iPad would use sensors to recognise hand and finger gestures, and use those dynamic inputs to create and modify a 3D virtual object. The abstract lays out the claim:
Three-dimensional objects can be generated based on two-dimensional objects. A first user input identifying a 2D object presented in a user interface can be detected, and a second user input including a 3D gesture input that includes a movement in proximity to a surface can be detected. A 3D object can be generated based on the 2D object according to the first and second user inputs, and the 3D object can be presented in the user interface.
The patent includes the proximity sensors needed to sense movement, and the processing power and temporary storage needed to generate and modify the virtual object on the screen. ®