M.R. James, master of the ghost story, was born 150 years ago
Oh whistle and I'll scare you to bits, my lad
---
British writer of ghost stories - and arguably one of the genre's finest storytellers - MR James, was born 150 years ago today.
Montague Rhodes James was born on 1 August 1862 in Kent but spent many of his earliest years in Suffolk. East Anglia would later form the backdrop for many of his ghost stories.
A number of James' earlier tales were composed to be read to groups of friends on Christmas Eve, but were published in a series of collections from 1904 onwards.
A medieval and biblical academic himself, and penned for an academic audience, it's not surprising that most of James' stories centre on scholarly types who talk to themselves and generally poke their noses where they shouldn't.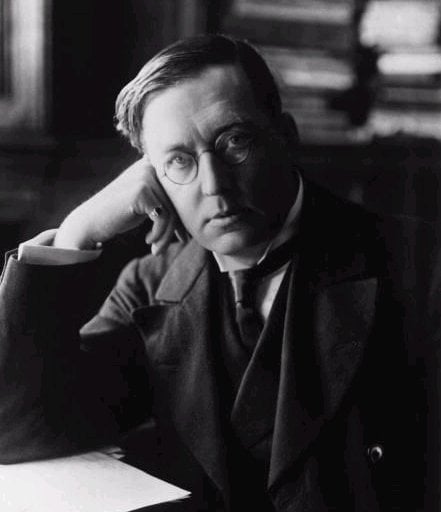 MR James circa 1900
Greed for knowledge and excessive curiosity are common sources of misfortune for James' characters, though there are plenty more - ordinary folk among them - who merely stumble into horrific situations.
Many, but not all, of his stories have contemporary settings, and it's this, and the visceral nature of much of James' horror, that sets him apart from the gothic and fantastic work of his predecessors.
His supernatural beings are to be feared not, as seems to be today's vogue, shagged. They do very nasty things to people. They are not cool. They don't sparkle.
The first three of James' four collections - Ghost Stories of an Antiquary, More Ghost Stories, The Thin Ghost and Others, and A Warning to the Curious and Other Ghost Stories - are available through Project Gutenberg.
Favourites? The Mezzotint, Number 13, Count Magnus, A School Story, Casting the Runes and A View from a Hill. Among the more well-known - and more frequently adapted for TV and radio - are A Warning to the Curious and Oh Whistle, and I'll Come to You, My Lad.
Special honour goes to Rats, a story that does not actually feature rats. "But was it with the rats? I ask, because in another case it was not..."
If you can track them down, Michael Hordern's readings, recorded for the Argo spoken-word label in the mid 1970s, best set the tone of stories read by a dusty, unworldly academic to other dusty, unworldly academics.
James studied at King's College, Cambridge, where he remained after graduation as a teacher and researcher, and later as the college Provost. In 1918, he took up a similar post at Eton public school. He died there in 1936.
People still remember last year at Belchamp St Paul how a strange gentleman came one evening in August years back; and how the next morning but one he was found dead, and there was an inquest; and the jury that viewed the body fainted, seven of 'em did, and none of 'em wouldn't speak to what they see, and the verdict was visitation of God; and how the people as kep' the 'ouse moved out that same week, and went away from that part. But they do not, I think, know that any glimmer of light has ever been thrown, or could be thrown, on the mystery.

It so happened that last year the little house came into my hands as part of a legacy. It had stood empty since 1863, and there seemed no prospect of letting it; so I had it pulled down, and the papers of which I have given you an abstract were found in a forgotten cupboard under the window in the best bedroom.
From Count Magnus