Outlook.com launch a gold rush for jokers, spammers
'One million people' could be wrong
---
Analysis Microsoft's servers have been going bonkers processing account requests for its newly launched Outlook.com webmail service, but there's plenty of evidence to suggest that Redmond's Gmail competitor may be less of a breakout success than it would have us believe.
On Tuesday, just six hours after the service launched, the Outlook team took to Twitter to thank its many new subscribers, saying, "One million people have signed up for a new, modern email experience at Outlook.com. Thanks!"
Whether you accept that figure, however, seems to depend largely on how you define "people." If we assume it means "active users," it would be wise to take Microsoft's claims with a grain of salt.
For starters, at least some of those who signed up for Outlook.com accounts say they did so not because they wanted a new experience, but because it just seemed like the thing to do.
"Whenever a new major email service comes out (such as Yahoo, Hotmail, Gmail) I usually sign up to try it out," a reader who goes by "MrP-" tells El Reg in an email. "Also being a Microsoft service and being named Outlook.com it seems like an important address to have."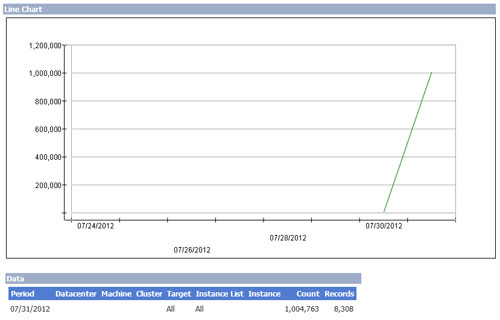 Could anything with a growth rate like that possibly be human? (Source: Microsoft)
Whether he will use it regularly is another matter. For starters, MrP- says that when he saw his first name was taken, he picked something silly.
"I may use it occasionally, probably just when signing up for sites that I worry may start spamming me," he writes. "That said if I ever were to switch to Outlook.com I'd probably create a legitimate account based on my real name and wouldn't be using satan@outlook.com."
That would leave MrP- with two Outlook.com accounts just for himself, but he says a coworker is already way ahead of him, having signed up for five separate accounts in a single day.
"My coworker set up his accounts to forward to his primary Gmail account. He mainly just wanted them because they're his names on other sites and his first name is usually impossible to get on any site/service," MrP- writes.
Microsoft is clearly already aware of such practices. Kenneth Paul, a consultant cloud architect at EMC, posted to Twitter that he was having trouble signing up:
#OUTLOOK 1st attempt to create outlook.com account returns "You've reached the daily limit for creating Microsoft accounts". #FAIL

— kenneth paul (@kenpaul) August 1, 2012
The error message may have been displayed because of a system glitch, but the fact that it's there at all implies that Microsoft was well aware that individuals would sign up for multiple accounts. How, then, does it justify its "one million people" claim?
Phishers and spammers welcome?
Somewhat more worrying, Microsoft seems to have been particularly lax about withholding certain addresses from circulation. One PC Pro staffer managed to grab steveballmer@outlook.com, but that's not the worst of it.
"I'm now the 'proud' owner of post.master@outlook.com," writes Reg reader "graeme_from_it". And he's not alone. There's also Ross Duggan, owner of no-reply@outlook.com; Ryan Hoffman, who nabbed donotreply@outlook.com; and who knows how many more.
Doubtless none of these three grabbed their addresses with ill intentions, but the fact that they were able to claim them suggests that Outlook.com may be a wide-open market for spammers, cybersquatters, phishers, and anyone else who wants to send deceptive emails.
When contacted for clarification regarding its policies on Outlook.com names, Microsoft responded with a statement, saying:
We appreciate the significant interest (and creativity) Outlook.com has received. Before launching, we reserved a number of addresses for support and administrative purposes, and have a significant number of security tools in place to combat malicious behavior.
Whichever way you slice it, though, at 1 million accounts and counting, Outlook.com still has a long way to go before it can match Gmail's reported 420 million accounts. But if the email address land grab bonanza continues, it may well reach a similar figure sooner than anyone expects.
Let's just be clear, though: We're talking about accounts. Not people. ®