The Dragon 32 is 30
Fire starter
Financial woes
Before the launch of the Dragon 32, the PAT team began revising the design for a 64KB model, which was hinted at as a "64KB upgrade" in the Information for Machine Code Users booklet supplied with the Dragon. The booklet also promised a disk-resident "Unix-like OS-9" operating system for the 64KB machine and a disk drive package comprising a controller that plugged into the machine's cartridge slot.
While PAT was creating what would become the Dragon 64, Mettoy was running into financial difficulties. To save Dragon Data, in October 1982 Clarke engineered investments from the Welsh Development Agency (WDA), a governmental body; Prudential Insurance's VC wing, Pru-Tech; and others.
Dragon Data separated from Mettoy, which would soon go into administration, selling its remaining stake in Dragon to Pru-Tech. Mettoy managers bought the what was left of the company and relaunched it as Corgi. Corgi still survives, though it has had many different owners in the years since then, including US toy giant Mattel and, now, Chinese company Zindart.
But by April 1983, 40,000 Dragon 32s had been sold, many in the run-up to Christmas 1982. Dragon Data had moved to larger premises - in order to bring manufacturing in-house - at the behest of the WDA, and it was eyeing output of 5000 units a month and a launch in the US.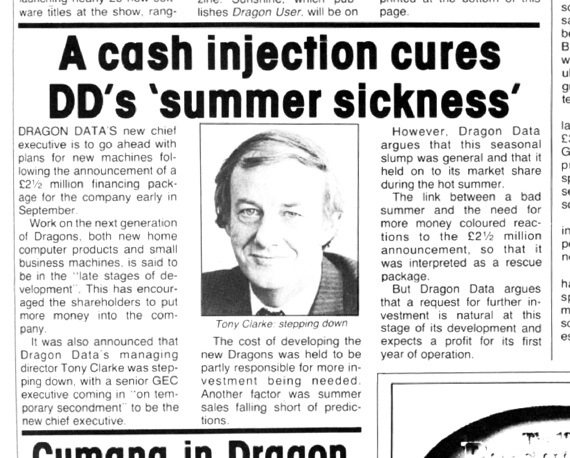 Founder out: Tony Clarke's departure, reported in Dragon User, October 1983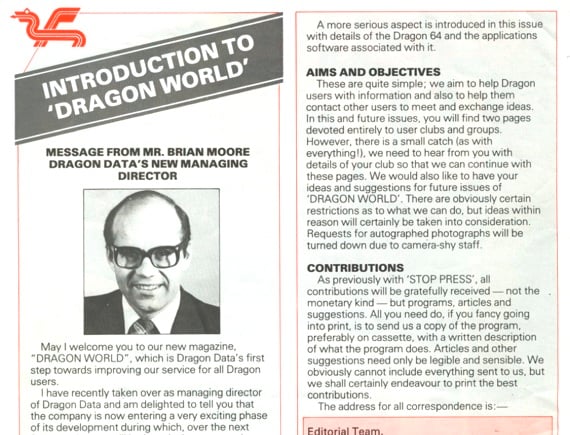 New MD in: Brian Moore introduces himself in Dragon World, December 1983
The following August, a year on from the Dragon 32's debut, Dragon Data announced the Dragon 64 with a view to beginning shipments the following month. By now, the company had signed up New Orleans-based Tano to produce and sell the 32KB and 64KB machines in the US, and if the Dragon 64 was arriving later than promised, the outlook seemed good to the machine's many fans.
But Dragon Data's sales projections were not being achieved. The company was struggling against Sinclair's Spectrum, Commodore's 64 and Acorn's BBC Micro. While the coming Christmas sales season promised to be fruitful, shareholders were increasingly voicing their criticism of Dragon Data's management.
In September 1983, founder Tony Clarke was ousted. Brian Moore was brought in from electronics company GEC - with which Pru-Tech had a strong relationship - on a temporary basis as Clarke's replacement. His job: to focus on tightening Dragon Data's operations and to build a viable basis for the company's future development. The move soon yielded a £2.5m investment from GEC, which had by now realised it needed to enter the home computer business.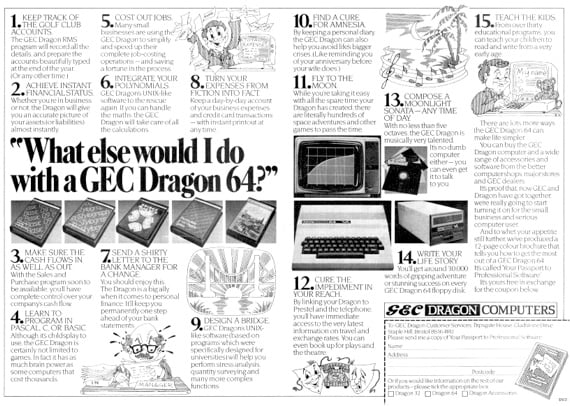 Dragon goes 64KB - and enters the GEC era
During 1984, GEC would tighten its hold on Dragon Data, first by taking on board the manufacturer's sales and marketing operations, and then by renaming the company GEC Dragon. It talked about a 64KB transportable with an on-board modem and a 3.5in Sony floppy drive. It pitched a dual-CPU machine, codenamed the Alpha and destined to be promoted as the Professional, with 256KB of Ram and two 3.5in floppy drives. The Alpha was based on the original Dragon case design, but a more PC-style unit, the Beta, was also created.