Motorola's next Razr 'leaks' online
New legal strategy: ugly won't get you sued?
---
Yet another round of Motorola Droid Razr HD prototype-leak rumours has been kicked off by a post to the XDA forums, picked up by Android Headlines.
With the phone having passed FCC approvals, it might almost seem that the leaks are a pre-launch marketing campaign by Motorola, with the latest pics showing a 4G logo that associates the phone with Verizon.
Android fans are still arguing over whether the Ice Cream Sandwich-based phone will have a 2500 mAh or 3300 mAh battery, but it's agreed that the Droid Razr HD will have a 720 pixel screen, and most sources seem to put the US price in the $199-$299 range under contract.
Earlier this month, Droid-Life reported that the Droid Razr HD will use a 1.5 GHz dual-core Snapdragon processor, and on-screen capacitive buttons.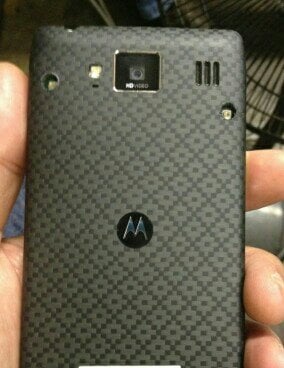 If it's not a hoax, this is what the back of Razr Droid HD will
look like, according to the XDA forum post leaking the image.
However, what's most striking about the phone is the diamond-patterned Kevlar back, which has Android fans divided about whether it's "cool" or "bizarre". El Reg would suppose that it's what happens when lawyers have to oversee design departments: "what's a design that Apple can't possibly think was copied from the iPhone?"
Unfortunately for Motorola, the phone still appears to be broadly-rectangular, a shape which we all now know certain corporate residents of Cupertino invented long before Euclid started fooling with geometry.
The leak that got things going is here (apparently a European version), with a US leak proclaimed here. ®