Martian lakes seen where NASA Curiosity rover WON'T BE GOING
Ancient wetlands 'were on the shortlist'
---
The European Space Agency says its probe craft in orbit above Mars has seen strong evidence of ancient lakes and rivers - but at a location which WON'T be visited by NASA's nuclear-powered Curiosity rover, which will come in to land on the red planet on Monday.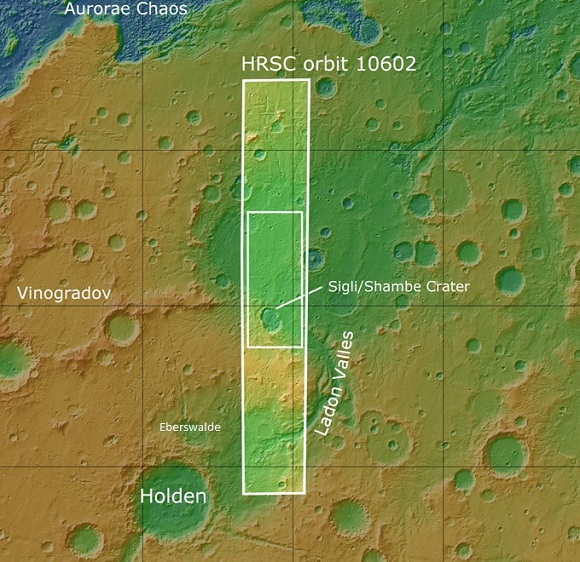 Look! Wet as you like! Once, anyway
According to a statement released today by the ESA:
ESA's Mars Express has observed the southern part of a partially buried approximately 440-km wide crater, informally named Ladon basin. The images, near to where Ladon Valles enters this large impact region reveal a variety of features, most notably the double interconnected impact craters Sigli and Shambe, the basins of which are criss-crossed by extensive fracturing. This region is of great interest to scientists since it shows significant signs of ancient lakes and rivers.

Both Holden and Eberswalde Craters were on the final shortlist of four candidate landing sites for NASA's Mars Science Laboratory, which is due now to land in Gale Crater on 6 August.

Large-scale overview maps show clear evidence that vast volumes of water once flowed from the southern highlands. This water carved Ladon Valles, eventually flowing into Ladon basin, an ancient large impact region.
Curiosity (aka the Mars Science Laboratory), packaged inside its aeroshell re-entry craft and attached to its rocket skycrane lander, is even now soaring inward towards Mars. However the radical rover - which is expected to break all records for distance rolled on another world by the machines of humanity due to its pocket nuclear powerplant - is destined for the Gale crater far across the red planet from the Ladon basin, which it has no possibility of reaching.
It would seem that the ESA, in announcing Mars Express' amazing new discoveries just days before Curiosity comes in to land (the imagery was actually taken in April) may be indicating that it is a tiny bit miffed by the fact that the Holden/Eberswalde/Ladon region didn't get beyond the shortlist.
There's more from the European-centred space agency, including some rather groovy pictures, here. ®