Fusion-io flies into flash SAN space
It's flash SAN war
---
It's flash SAN marketing war: Fusion-io has expanded upwards from its PCIe server flash card base into networked flash SAN storage, taking on Violin Memory, Pure Storage and all the other all-flash array players via OEMs and system builders who combine Fusion's flash hardware and SAN software with server systems.
Fusion's ION Data Accelerator product combines ION software with its ioMemory cards inside a server host to provide a shared all-flash SAN array of up to 20TB capacity and capable of 1,000,592 random 4K IOPS, 6GB/sec bandwidth and less than 0.06 millisecond access latency.
The software turns a 1U server into a SAN and can provide up to 25X SQL performance improvement, according to an early access customer. Fusion says its system is preferable to a start-up, new design all-flash SAN that can be proprietary, because the ioMemory cards are proven and in use with thousands of customers. Industry-standard servers are similarly proven and reliable with hundreds of thousands if not millions of them deployed.
High-availability is supported with two such servers clustered across 40Gbit/s InfiniBand. Data is synchronously replicated from unit one to unit two before the data is committed. The host server's DRAM is not used to cache data and there is no need for UPS, battery backup or supercapacitor power-fail protection.
The flash comes as SLC or MLC ioDrive 2, ioDrive 2 Duo or ioDrive Octal cards. The flash can be RAIDed - 0 and 10 - for protection.
Fusion positions the ION Data Accelerator as an appliance that can host an entire database in its flash storage and support app servers such as Oracle RAC nodes linked to it over Fibre Channel. InfiniBand and iSCSI links are also supported. The system interoperates with Fusion's ioTurbine and directCache server caching products.
David Floyer, Wikibon's chief technology officer, said; "Fusion ION provides servers with a powerful shared data solution that used to require specialised hardware. This advances the evolution to I/O-centric data centres defined by software."
ION SW components
The ION Data Accelerator software is a SCSI storage target with a management layer between it and application interfaces. Fusion's VSL (Virtual Storage Layer) software sits between it and the ioMemory cards and turns them into a single virtual pool of storage. VSL protects the system against multiple NAND failures.
ION and HP/SuperMicro
Fusion-io says its networked flash array is open because it can run on any suitable server hardware. In this it's similar to DataCore or FalconStor SAN software although these come from the disk array world. Two OEM deals exist; one with HP and the other with SuperMicro. The HP DL370, a gen 8 ProLiant server, has 365GB to 10TB of ioDrive 2 flash, or 2.4TB to 20TB of ioDrive 2 Duo flash. There can be 2 quad port 8Gbit/s Fibre CHannel ports or 2 dual port QDR InfiniBand ports.
It does 1,000,592 4K random read IOPS, 706,000 random write IOPS and boasts read.write latencies of 73 and 56 microseconds, with 5GB/sec bandwidth.
The SuperMicro bundled system is a lower-end configuration with from 356GB to 2.4TB of ioDrive2 flash or 2.4TB to 5TB of ioDrive2 Duo flash. It has one or 2 dual- or quad-port 8Gbit/s Fibre Channel ports or one or two dual-port QDR InfiniBand.
Its performance numbers are 518,000 and 357,000 random 4K read and write IOPS, 5GB/sec bandwidth and 108/70 microseconds read and write latency. This system can also have two nodes in high-availability mode with the 40Gbit/s InfiniBand link.
Cisco's UCS C460 M1 and Dell's PowerEdge R720 servers have been successfully tested by Fusion-io with the ION software and hardware.
ION and data management
Fusion has not included any data management features with ION; no snapshots, no clones, no backup and no replication. There is no deduplication, compression or thin provisioning to increase data storage efficiency. These may come, with Fusion CEO David Flynn saying; "As we add features it will be inlays that preserve the memory speed performance of ioMemory."
There is no scale-out capacity or performance beyond a single iON node and its 20TB maximum capacity. ION appliances can be stacked in a rack but there is no single image. Fusion says there is scale-up performance potential because faster servers and network adapters will enable the ioN software to run faster.
ION competition
The ioN system will compete with all other all-flash arrays, whether from start-ups or from storage array vendors refreshing their disk drive arrays with all-flash versions, such as HP's recently announced all-flash P10000. Ironically two all-flash array vendors, NexGen and Kaminario, use Fusion-io ioDrive flash cards in their products.
Flynn says Fusion is not aiming to compete with them: "We're talking about the performance high ground, not trying to be the be all and end all." He said Kai Lee, the tech founder of Data Domain deduplication is a foundation investor in Fusion-io; "We know about deduplication."
The chart below shows the maximum random IOPS ratings of various AFA products as a simplistic comparison point. It makes no distinction between read and write IOPS, or the type of flash, SLC vs MLC. The SolidFire numbers are low because we only have mixed read/write numbers for its arrays and not read or write numbers for 4K blocks as is the case with the other products.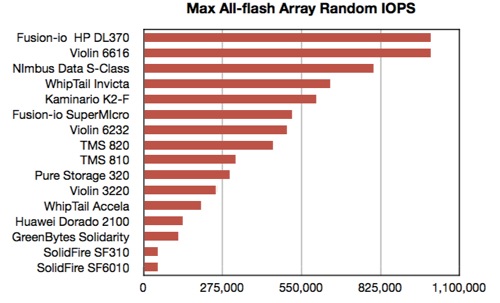 Maximum random IOPS for selected all-flash arrays.
Fusion calls out Violin's 6232 and TMS' RamSan-810 in its competitive comparisons. Our table includes these systems. It shows Fusion has a slight performance advantage over Violin's 6616 SLC flash system; Fusion's HP DL370 system uses MLC flash. It's faster because Fusion found the bottlenecks were not in network latency but in server and controller software stacks, based on assumptions of disk drive storage.
GreenBytes' all-flash array comes with ZFS and its integral data protection and efficiency features such as GreenBytes' own deduplication. Fusion views data management functions as being an upper stack responsibility.
Our take on the comparison between the ION DL370 with the all-flash HP 3PAR P10000, is that the the P10000 can have up to 512 200GB SSDs - 102.4TB, five times greater capacity than the ION system, and it comes with 3PAR's thin provisioning and data management goodness. HP will also link this system automatically and dynamically with gen 8 ProLiant server's Smart Cache feature to feed these server flash caches with hot data.
Kaminario has its SPEAR scale-out architecture for adding nodes to a K2 solid-state storage system. It uses Fusion's ioMemory cards in its K2-F system but also has a K2-D DRAM system with K2-H hybrid flash and DRAM. It has announced its K2-D system has achieved 1.2 million SPC-1 IOPS, more than twice as fast as the half million plus exhibited by an IBM SVC/Storwize V7000 disk array system.
Nimbus Data was one of the first all-flash arrays and is now a second generation product with a full set of storage efficiency and data management features.
What about Pure Storage? "No surprise that Fusion-io is going after Violin and EMC Project Thunder in the flash server appliance market niche," said Scott Dietzen, Pure Storage CEO, "but the far more exciting fight will be for the $15bn+ storage array market transitioning to flash in the next decade."
His view on ION appliances is this; "These flash server appliances lack the software features and are just too expensive to appeal to the mainstream. In contrast, the storage array market is dominated by software, software for data management, snapshots, replication, self-healing, and so on - after all, EMC and NetApp are predominantly software companies."
"The key to replacing ... disk with ... flash is also software, software for sub-millisecond deduplication and compression, global wear-leveling, and flash health management that drives the cost of flash down below that for disk."
Violin Memory is an aggressive flash array start-up. Its CEO, Don Basile, used to be the CEO of Fusion-io, having been replaced by that firm's co-founder David Flynn. The ION Data Accelerator enables HP and SuperMicro, and other potential OEMs to compete with Violin Memory's products.
Roadmap
Flynn said that another generation of ioMemory was being considered; "Today's highest density is 10TB in a full-height, double-wide card."
Coming product technology will provide two times the NAND density per die, twice the number of dies in the package and more flash per controller. Flynn said; "Next-generation cards will be in the tens of terabytes area. Applications will be transformed by this. We have no idea how this hardware power will be used."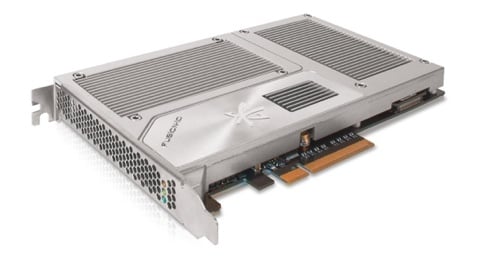 ioDrive II Duo.
Perhaps it will be possible to have a significant jump in machine pattern recognition capabilities. what happens if today's relatively lumbering pattern matching with video and audio data runs a thousand times faster, even a million times faster?
Are we potentially looking at a turning around from applications that today are IO-bound to ones tomorrow that are compute-bound? Flynn's answer was; "Absolutely." We're moving into an era when data IOs are more or less free.
Fusion's ION shared acceleration software will be available in October 2012 at a $3,900 manufacturer's suggested retail price. The company says customers can configure integrated solutions with their preferred server systems vendor. ®