Russia slashes space station ship trip to just six hours
Faster route for 2,600kg craft beats usual two-day jaunt
---
Russia's space agency Roscosmos has successfully tested a new route that gets its spaceships to the International Space Station in an eighth of the time it usually takes.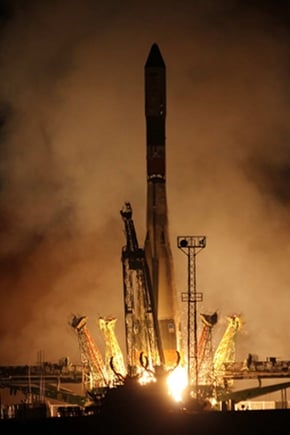 The Progress M-16M zipped up to the ISS in just six hours – four orbits – instead of the two days – 34 orbits – it normally takes cargo-craft to reach the station, even though it was fully loaded with over 2,600kg of fuel, oxygen and supplies.
The shorter transit plan was tested with a cargoship, but if all the boffins are happy with it, it could be used for manned missions, drastically reducing the amount of time it takes 'nauts to get to and from the ISS for the shift change.
A Soyuz-U rocket blasted the Progress off at 8.35pm BST and the ship locked onto the Pirs docking compartment at 2.18am BST. It's one of three cargo-crafts berthed with the ISS at the moment, including Japan's H-II Transfer Vehicle-3 and Europe's ATV the Edoardo Amaldi.
The other Russian ship that had been docked to the station, the now trash-filled Progress 47, released late on Monday and is orbiting the Earth for a few weeks of engineering tests before it destructive re-entry into the Earth's atmosphere over the Pacific Ocean. ®