Apple plans extended iPad display through 'Smart Covers'
Peripheral vision
---
Apple envisions iPad cases with flexible displays that expand functionality into the tablet's protective sleeve, recently publicised patent applications reveal.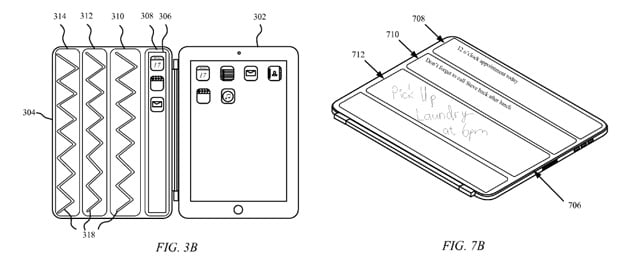 The suggested Smart Cover, which draws power and data from a connector on one side of the slate, could be used to display a media control interface, or extend the main display with additional icons.
Alternatively, the entire inner panel could be transformed into a Microsoft Surface-like keyboard, or used as a graphics tablet panel.
The Smart Cover patent application was filed in August 2011 and only saw the light of day this week after being made public by the USPTO.

Unfortunately, there's no way of knowing if Apple's designs will become reality as yet - or even if it'll be awarded the patents it has requested - so while we'll keep our fingers crossed for an impending craze of Smart Covers, we won't stockpile the sterling for one just yet. ®