This article is more than 1 year old
Post-pub nosh deathmatch: Bauernfrühstück v bacon sarnie
1966 revisited - with added pork
As long-term Reg readers are aware, it's been scientifically proven that bacon has almost miraculous powers to cure the effects of a night on the sauce.
Accordingly, we at the Special Projects Bureau went in search of two world-class sliced pork recipes designed to ameliorate the pain of a severe liver-kicking.
Prepare your laughing gear, then, for Bauernfrühstück versus the bacon sarnie - a contest which demands the obligatory 1966 rematch reference, which we can now consider delivered.
Bauernfrühstück translates as "farmer's breakfast" (or farmers' breakfast, if you will). It's a hearty assemblage of scrambled egg, spuds and bacon, with added green pepper to provide that guilt-busting "it's got some vitamins in it" ingredient.
More on Bauernfrühstück in due course. First up, we come to the bacon sarnie, which has no green stuff in it whatsoever. Those of you who are at this point thinking that any fule kno how to make a bacon sarnie, there's more to this classic British dish than meets the eye.
Just what constitutes the perfect bacon sarnie is a matter of national controversy, and has attracted the attention of some of Blighty's finest minds.
We at the SPB are in no doubt whatsoever that this is what you need to construct the ultimate bread-pork combo: bread, butter, bacon and brown sauce...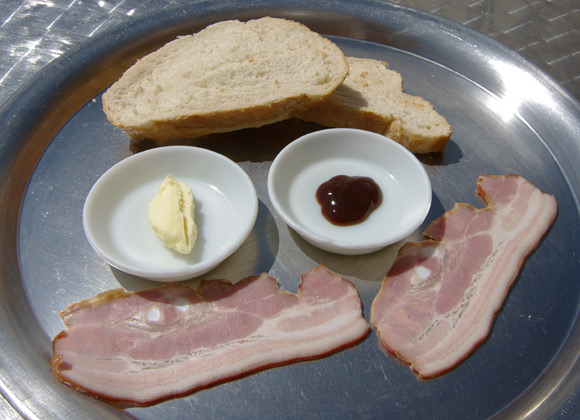 It's absolutely certain that the bread must be crusty, white and hand-sliced. A white sliced loaf might pass muster at a pinch, but under no circumstances can brown bread be allowed to come into contact with the holy bacon.
Indeed, unholy reimaginings of the bacon sarnie, deploying wholemeal baps topped with bird food are certainly a bourgeois conceit formulated during holidays in Provence and designed to undermine the very bedrock of saturated fat on which British culinary excellence rests.
We're fully aware that there are those who swear by tomato ketchup as the correct bacon condiment, but let's summarise it thus: you're wrong, and you should seek professional help.
And the bacon? Well, we don't subscribe to the crispy camp, preferring our meat hot and tender, as we believe does celebutard pork-lover Paris Hilton.
Each to his or her own, though, on that matter. So, without further ado, and for any Johnny Foreigner out there who's currently scratching his head and wondering "was ist das Bacon Sarnie of which you sprichst?", here's how it's done: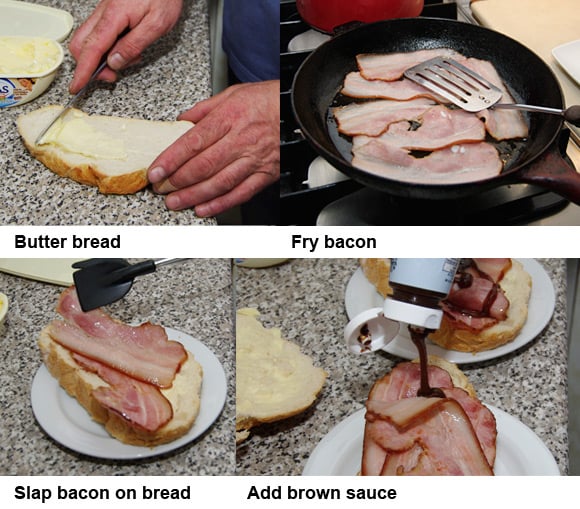 As ever, we worked our culinary magic in Bar Almanzor, in my local town of Barco de Avila, where hungry volunteers had gathered to tickle their palates with this month's international cuisine. Thanks as ever to owners Juanjo and Begoña for lending a helping hand with the cooking.
Paper Aircraft Released Into Space vet José María Pita pitched in as guest waiter, and here he is with local builder Fernando ready to present the bacon sarnie to the voting public: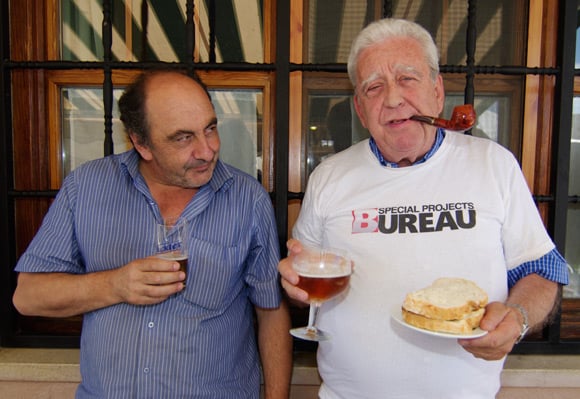 In fact, so well does Don Pita do the boffin pipe/beer thing, that here's another snap of his handsome mug, as he prepares himself mentally for the coming porkstorm: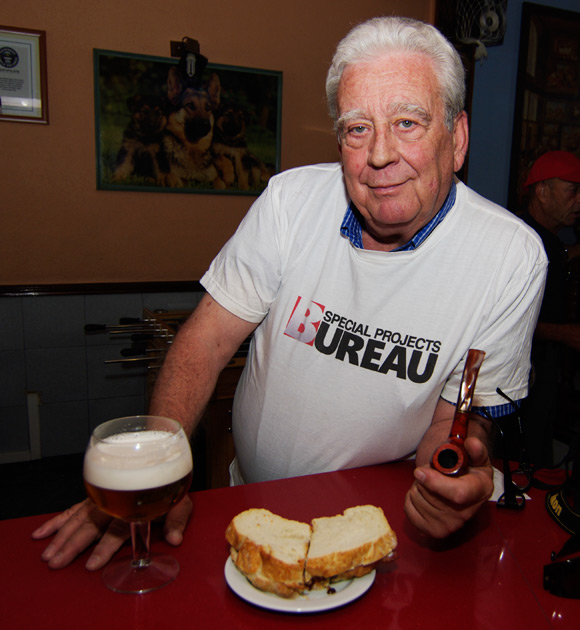 First up to the plate were Fernando's missus Lourdes (previously a deathmatch guest waitress) and her son Diego, who doesn't look entirely convinced...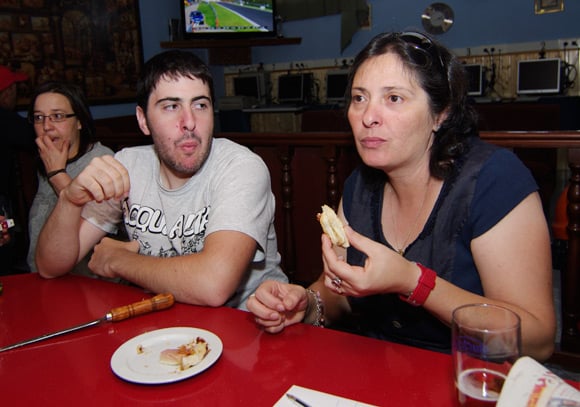 ...although my daughter Katarina is a diehard bacon sarnie fan: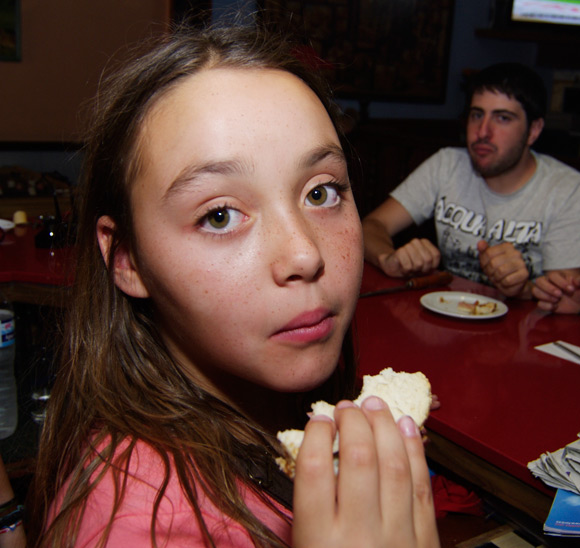 I'd invited local rural hotel owner Alvaro to this particular deathmatch, for reasons which will become clear later. Here he is with José María, who appears to be inflicting the infernal joke about the monkey and the pianist* on the poor bloke: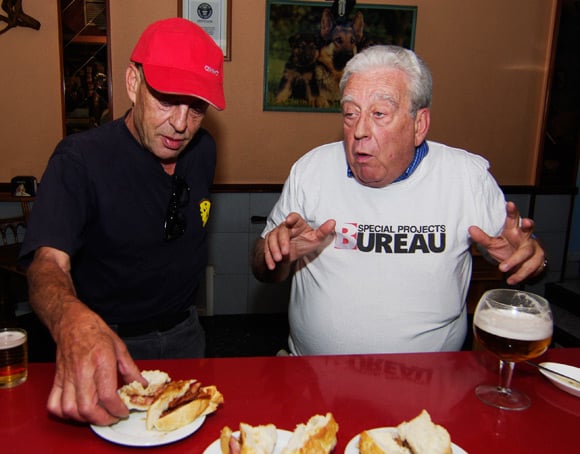 As those of you who've been following our deathmatches will know, builder Fernando is the acid test of whether or not a dish is suitable for the Hispanic market. Having declared mealy pudding and haggis pakora pretty well unfit for human consumption, he was rather more taken with our latest British Isles offering: