HDS to flaunt young HUS array for money
Needs to stop sequential sliding of revenues
---
HDS quarterly revenues are slipping down and need the recently launched Hitachi Unified Storage array to ramp sales and reverse the slide.
In its first fiscal 2012 quarter, HDS recorded $1.047bn revenues from storage sales by itself and Hitachi in Japan. (This figure does not include OEM sales such those to HP.) This is a record but just 2 per cent up on a year ago, and 7.7 per cent down on the preceding quarter, which was itself 6.5 per cent lower than the quarter before that.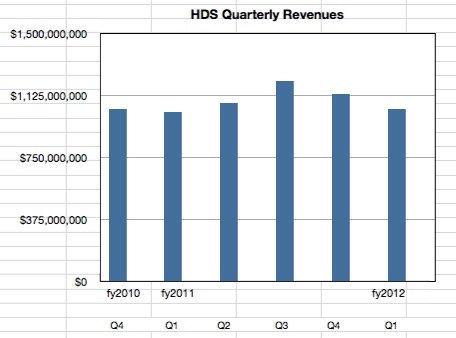 HDS, a Hitachi group subsidiary, does not release profit or loss figures.
The recent slide is due to weak Adaptable Modular Storage (AMS) array sales, and to adverse economic conditions in southern Europe. HDS has replaced the AMS array with the HUS unified file, block and object storage array and is hoping that its sales will reverse the mid-range decline.
There were plenty of bright spots in the HDS results picture; the Americas' revenues grew 4 per cent, Asia-Pacific revs grew 9 per cent, and EMEA let the side down with a 6 per cent dip.
High-end VSP array sales increased 30 per cent year-on-year. We understand that there will be VSP-related announcements later this month which may extend the VSP addressable market. There was growth in the high 70 per cent range for HDS's file and content services products. The HDS NAS platform, which includes the acquired Blue Arc technology, grew more than a 100 per cent year-on-year and we should see the Blue Arc technology appearing in more HDS products.
Roberto Basilio, HDS VP for hardware product marketing, said HDS has won business through managed services – the new name for outsourcing – as customer IT management begins to look on the idea of getting out of running their own IT more favourably. He said that the idea of converged systems is gaining traction, though there is a wide spread between the fully integrated single systems like the Oracle Exa-products and template directions for converging components like EMC's VSPEX and NetApp's FlexPods, with VCE occupying a middle ground.
Basilio handles Hitachi storage, servers and networking hardware, and said he is cognisant of the trend to move performance data storage into a flash tier and simultaneously move it closer to the servers where the apps that need that data execute.
He didn't quite say "Watch this space," but I feel we should keep a watchful eye on it anyway. ®