Microsoft tightens grip on OEM Windows 8 licensing
Factories will report directly to Redmond
---
A series of slides leaked online reveal information about Microsoft's new OEM Activation process for Windows 8, which is designed to make it more difficult to activate illegal copies of Redmond's latest OS.
OEM Activation (OA) allows PC manufacturers to ship systems with Windows preinstalled and already activated, so that customers don't need to take any additional steps to activate the OS when they first use a new computer.
In the past, hackers have managed to take advantage of the OA process to activate purloined copies of Windows, which ordinarily need to be activated with a license key. Rogue OEMs have also used similar systems to avoid paying tribute to Redmond.
The slides, which appear to be taken from Microsoft training materials, outline the differences between OA 3.0, which will debut with Windows 8, and earlier versions.
If the slides are authentic, under OA 3.0, manufacturers will be required to write a unique Windows product key into the BIOS of each new PC, keyed to that particular computer's hardware. In the past, OEMs used the same product key for every PC they shipped.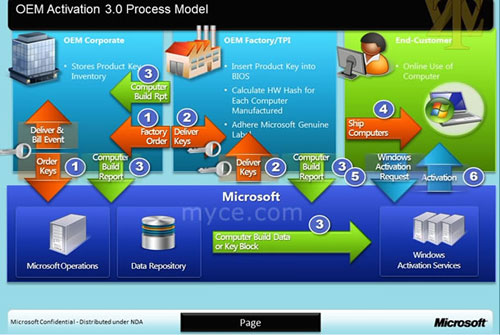 Looks simple enough.
The vendors will also now obtain their product keys directly from Microsoft via electronic delivery, and each new PC will come with a "Genuine Microsoft" sticker affixed, rather than the earlier Windows Certificate of Authenticity.
Factories will also be required to file production reports to Microsoft detailing their license compliance.
For now, OA 3.0 will only apply to new PCs running the Windows 8 client OS. Other versions, including Windows Server 2012 and Windows Embedded, will not use the new method – at least initially – and Windows 7 and earlier will continue to use the older OEM Activation method.
Microsoft declined to comment. ®