This article is more than 1 year old
Alteryx does Big Data integration for dummies
Everyone wants to be a 'data artisan'
The real challenge of Big Data is not storing and chewing your clickstreams and other operational data to get the right product in front of the right person. That's easy. But taking multiple data sources from your own systems and outside sources, mashing them up, and then spitting them out as information that some person or program can actually use to make decisions: that's tough. With its Strategic Analytics 7.1, Alteryx thinks it has a palette upon which analysts can mix data sources and run analytics – in much the same way as an artist paints a landscape.
It's this focus on the creative process that has Alteryx attempting to "humanize big data" and referring to analysts as "data artisans," says George Mathew, president at the company. Alteryx tools are used by retail king Walmart and burger giant McDonald's to decide where to plonk their outlets, as well as how to squeeze out as much cash as possible from each.
The company was founded as SRC in 1997 by Dean Stoecker (still the company's chairman and CEO), Olivia Duane Adams, and Ned Harding, and they did custom consulting and application development to help dice and slice data geographically and present it in a graphical form that is more easily understandable by people (mainly marketeers) than tables and reports might be.
In May 2010, the company changed its name to Alteryx and set about positioning its geographic business analytics system for the Hadoop-crazed world. The company raised $6m in Series A funding from SAP Ventures in April 2011 and has been building out its analytics kit with data sets and tools that make it easier for companies to integrate various data sources.
Mathew says that prior to the Series A funding, the company grew organically, now with over 250 customers and more than 200,000 users worldwide. "A lot of top-tier venture capitalists have reached out to use to get us Series B funds, and we don't need it," brags Mathew.
It is amazing that SAP has not bought the company already, or that Oracle has not done so out of spite (as well as to add another tool to Larry Ellison's Big Data belt).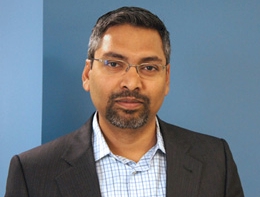 Alteryx president George Mathew
The current iteration of the Alteryx tools is used by retailers, real estate management companies, restaurants, and other companies that want to mix merchandizing and operational data from their systems with location-based data from outside sources (such as US Census data) and social media streams to "gain demographic insights."
Fast food peddler McDonald's uses the Strategic Analytics tool to figure out where to locate each of its restaurants in the United States and then track how business is going in each store.
Retailing giant Wal-Mart uses the Alteryx tools to squeeze the most profits out of each of its stores, making sure the most profitable products get to the stores where they will to sell well.
At Sprint, Alteryx tools are used to guess which of its wireless customers might jump ship to another carrier and to catch them before they churn. Eight of the top 10 wireless phone service suppliers use Strategic Analytics to fight churn, in fact.
The Strategic Analytics tool has two pieces. One is a desktop element that is a connection engine for linking data sources. It is written in C++ and tuned for Windows .NET, and it uses JSON web services to make connectors between data sources.
There is also a server version of this connection engine that you can put out on Amazon or Rackspace cloudy infrastructure that makes it a multi-user application for data scientists and marketeers to use from a central location. If you don't want to manage your own cloudy infrastructure, Alteryx will be setting up its own private cloud atop Amazon and will sell its integration tool as a service.
As you can see from its support matrix, the tool can integrate with all kinds of flatfile and database stores, spreadsheets, and a slew of spatial file formats created by third parties, as well as the SZ spatial zip file and YXDB database format that Alteryx created itself. It can kick out reports in HTML, DOCX, PDF, XML, RTF, and PPTX formats as well as on PCXML, a proprietary markup language that is a variant of XML that was created by Alteryx.
The 7.0 release of Strategic Analytics added integration with R statistical processing and the ability to move the Alteryx tool to the cloud and make it multi-user. With the just-announced 7.1 release, Alteryx is adding more integration for R functions. There are now 17 pre-packaged R algorithms, including decision trees, lift charts, and plot of means, that companies can invoke to do predictive analytics on their data.
The 7.1 release also adds more connectors, including an ODBC driver that links into Hadoop data munchers through the Hive database layer. This ODBC driver is licensed from Simba Technologies, and it's the same ODBC driver that MapR Technologies uses in its own Hadoop distribution, says Mathew, and it has been certified to work with both MapR and Cloudera Hadoop distributions.
The update also includes support for 10gen's MongoDB NoSQL data store, allowing for information culled through the Alteryx tool to be pushed into MongoDB or extracted from MongoDB data stores that have been generated by other applications.
The 7.1 release also includes a number of geospatial datasets as part of the basic license, including the US Census 2010 data, household marketing data from Experian, and spatial and location data with geocoding, drive time engine, and US mailing data from TomTom. Now you can chew on your customer and operational data and view it through these lenses to make decisions.
If, that is, you are willing to spend some money. A license to the Strategic Analytics 7.1 tool with a single data integration designer seat and ten users making use of the integrations and the data they generate from the cloud will cost you on the order of $30,000 to $50,000 per year.
Mathew says that the company is working on a single seat license with data extraction and integration tools that will come out in the fall, which could have a sticker price in the range of $15,000. The average customer using the Alteryx tools is spending somewhere in the range of $150,000 to $200,000, says Mathew, and there is free trial version with US Census and Dun & Bradstreet business reports integrated. ®