This article is more than 1 year old
Curiosity success 'paves way for Man on Mars by 2030s'
We've sent a laser-armed nuke tank, next we'll send the boffins
Curiosity Mars mission The landing of a "one ton automobile-sized piece of America" also known as the Curiosity rover on Mars today could clear the way for Man's arrival within the next 20 years.
NASA's Administrator Charles Bolden said that the Curiosity mission, the sixth successful shot at the Red Planet by his organisation, could lead to human exploration of the dust world in the 2030s, and demonstrated that the US was setting the standard in space exploration.
"Tonight there are at least four countries who are on Mars, and they're on Mars because of the United States," he said. "Our leadership is going to take this forward."
The US president's science advisor, John Holdren, was in a similarly patriotic mood, and added that the landing would stand as a point of American pride far into the future. The mission, which is part of the continuing exploration of the Solar System by the US, has sent the most advanced robotic lander ever to another planet and demonstrated the country's commitment to and leadership in science, he said.
"If anybody has been harbouring doubts about the status of US leadership in space, well there's a one ton automobile-sized piece of America to say otherwise," he said, to whoops from the crowd which left this El Reg hack wondering if we were going to get a chorus of Team America.
With regard to the nuclear rover itself, the landing was described as a lot smoother than NASA had expected. The landing site looks flat and easy to navigate and the rover is very close to Mount Sharp, which technically is called Aeolis Mons but was renamed by the team in honour of the American geologist Robert Sharp.
The Sky Crane craft that dropped Curiosity onto the Martian surface worked as planned and had plenty of fuel in hand. NASA gave it 400kg of rocket fuel to manoeuvre within the atmosphere and it was left with over 140kg spare. After lowering the rover the Sky Crane then boosted itself away from the probe and crashed at a safe distance.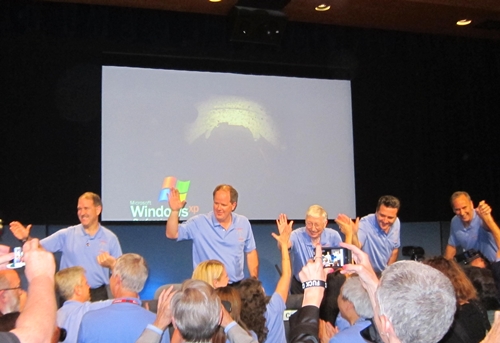 Curiosity team celebrates, but still using Windows XP
Over the next few weeks the team will run through a complete system check, testing each of the ten scientific instruments Curiosity carries and its propulsion and manoeuvring systems to see if the 11G the probe went through on its descent caused any damage. It will then go for a short trip, after which all the systems will be checked again.
Project manager Peter Theisinger said that NASA will take things slow at first, but that the testing of the equipment will bring new scientific data from the start. Since the rover doesn't need refueling, and the parts are all designed to last three times their primary mission's lifespan, Curiosity could be rolling for years to come.
"We've got a long mission ahead of us and because of that, and the capabilities of the rover we have the possibility for monumental scientific accomplishments," he said. "We're in no hurry, we have a priceless national asset and we're not going to screw it up." ®