This article is more than 1 year old
France's biggest Apple reseller shuts up shop
Pending court cases are all that's left of 30-year-old business
Lawsuits are all that remain of France's biggest Apple reseller after no credible bidders came forward to save the business. eBizcuss officially went into liquidation on 31 July, after 36 years of trading.
We understand that there were at least two offers for the reseller but none were sufficient to save the business. eBizcuss employed 120 workers across 15 shops in France and also ran two service providers – KA Services and ICLG. Mac Line, the Belgian offshoot of eBizcuss, which includes seven Apple Premium Resellers, will continue trading for several months while it waits to hear if there is interest in its assets.
eBizcuss began running into trouble in December 2011, when CEO Francois Prudent publicly criticised Apple for unfair businesses practices, saying the tech titan had starved his shops of hot product stock, especially the then-brand spanking new iPhone 4S. Prudent lodged a case against Apple in the Parisian commercial court. The CEO has also filed a case against Apple with France's Anticompetition Authority, according to French IT site IT Espresso.
Ebizcuss went into administration in May.
Seventy-five of Prudent's former employees at eBizcuss also filed individual claims against Apple in June, claiming that Apple was effectively their co-employer and demanding either severance pay or new jobs. They formed a protest group 'Pomme de discorde".
The homepage of the eBizcuss site showed a photo of a branch of the chain with an epigraph for the biz: eBizcuss 1976-2012: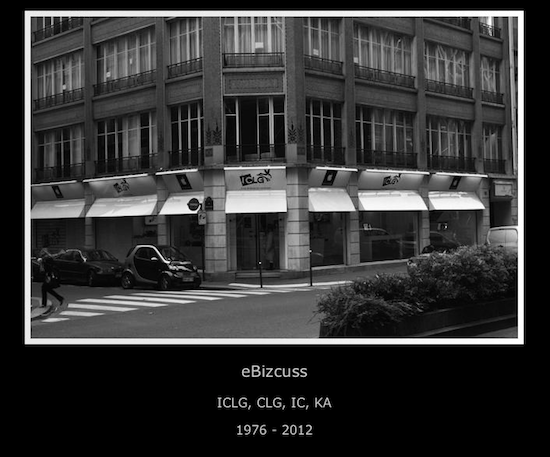 The homepage of eBizcuss now displays this epitaph
The Reg has contacted Francois Prudent and the disgruntled employee group Pomme de Discord for comment, but have yet to hear back. ®