EMC: We're turning VMAX into mainframe tape KILLER
Who needs physical when you can have virtual?
---
EMC has turned its VMAX array into a mainframe virtual tape library – the DLm8000, with synchronous replication – in a move that could see tapes banished from mainframe operations.
The company last year bought Bus-Tech, a mainframe virtual tape library vendor. EMC has a range of Disk Library for mainframe (DLm) products, including the DLM1000 entry-level system using Data Domain as its disk storage backend; the DLm2000 and DLm6000 enterprise products; and now the DLm8000 using VMAX, EMC's high-end storage array, as the backend storage and SRDF (Symmetrix Remote Data Facility) for synchronous replication. Synchronous replication gets new data to a second recovery system in the fastest way and shortens recovery times for failed systems.
EMC says that z/OS mainframe customers can have tighter recovery point objectives (RPO) and recovery time objectives (RTO) by using the DLm8000. The thinking is that banking, brokerage and insurance companies with transaction-based applications, where time and data accuracy are both critical, will need sync replication to prevent any main site disaster from causing data loss.
The DLm8000 can have up to 1.7PB of VMAX capacity and delivers up to 2.7GB/sec throughput. There can be 16 FICON attachments and 2.048 emulated tape drives. It comes with a EMC z/OS Storage Manager (EzSM), which provides a mainframe view of storage with VMAX monitoring and DLm management to discover and monitor DLm devices, import and export tapes and all the other stuff admins need to do. The screenshot shows just how little mainframe admin screens have changed over the years.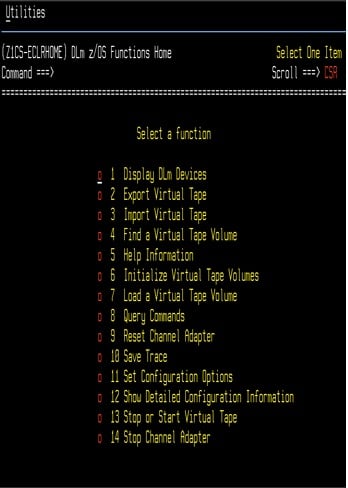 DLM EzSM screenshot.
Part of EMC's pitch is that this single product covers tape use for Hierarchical Storage Management, work tapes, backup tapes and archive tapes. Bluntly, it enables "the complete removal of physical tape from the mainframe environment enabled".
This echoes the "Tape sucks" message EMC was putting out last year, although this has been modified a little, with EMC saying it will supply tape libraries to customers that must have them.
The DLm8000 will be available in the last quarter of this year. No pricing information was supplied. ®