God-botherers burst onto IPTV Freeview: The End is Nigh
Teapot Makeover, another sign of the coming crapocalypse
---
Freeview HD, the UK's broadcast platform of default, now has a selection of god channels to accompany the nationalistic broadcasters, as the move towards narrowcast TV continues despite its inevitable destination.
Revelation TV is already up and running, along with The Christian Faith Network, while The Christian Channel will be joining them soon: all three are on Freeview HD Channel 113. Channels around 100 supply their fragmented audience over woefully-inefficient IP streams instead of normal broadcast, pointing the way towards the inevitable destruction of everything that's good about television.
All Freeview HD boxes support internet video, though not many of them are connected up yet and implementations are patchy, but channels including China Central Television and Al Arablya ("Round the clock information on the Arab world"), not to mention Sports Tonight, can economically deliver content to a much smaller audience over IP, which leads us to Teapot Makeover: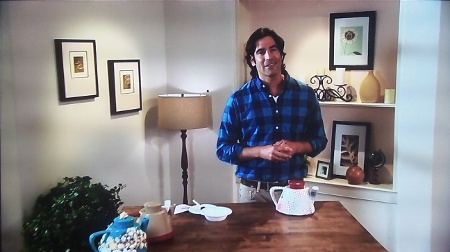 Apparently some tea pots are used for hot water, or even tea!
Teapot Makeover is presented by one Carter Oosterhouse, who explains that old teapots don't have to be discarded but can be given a new lease of life with a bit of wallpaper, or perhaps an old shoelace. The program is transmitted by AOL.TV, who pushed it into your correspondent's Blu-Ray player where it sits, pretending to be a proper television program.
Not that Teapot Makeover lacks production values: it's shot in High Definition (1080p) and Mr. Oosterhouse seems a personable-enough chap, but one has to question how many viewers are necessary to make it viable (we're discounting the possibility that Teapot Makeover is a loss-leader, primed to lure viewers into AOL's universe).
The lowering cost of production, and transmission, has enabled all sorts of hitherto-uneconomic video content to proliferate, from dancing cats to Star Wreck, but the cost of reaching the living room has remained comparatively high providing a barrier to entry that ensured a minimum quality level (I realise Jeremy Kyle isn't exactly high-brow TV, but we're comparing it to the You Tube at this point so bear with me).
Once every TV can receive IP streams the number of people watching broadcast TV will diminish proportionally. Sky's Now TV service, soon to be available on the YouView platform, demonstrates the company's interest in content provision rather than content broadcast - other broadcasters are playing safe with "catch up" services, for the moment, though 4oD happily lets one "catch up" with shows which haven't been broadcast for at least three decades.
So the "broadcasters" become little more than custodians of their back catalogue, aggregators competing with Apple and Amazon, or stumping up cash to pay for production in exchange for exclusivity which can be used to bring viewers into their own site where they can be sold more content.
None of which is any good for TV, though it will likely be a decade or two before broadcast television is finally switched off and we're all reduced to watching cats falling off pianos while vainly searching for some quality content amongst the trash - by which time we'll be looking fondly back at the days when there were only 57 channels, even if there was nothing on. ®